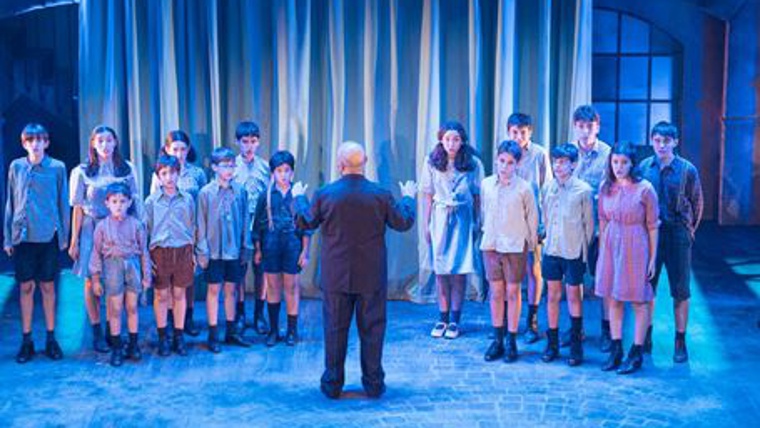 Schedule
Days
Hours
Preus
Observation

Dimecres, dijous i divendres excepte 29 març

a les 20.00 h

Entrada general de: 23.5 a 67 €




+ despeses de gestió.

Dissabte i
29 març

a les 17.00 h i
a les 20.00 h

Diumenge excepte 24 març i 31 març

a les 12.00 h i
a les 17.00 h

24 març i
31 març

a les 17.00 h
L'adaptació del super èxit del cinema francès, ara en viu!
Ens veiem al Tívoli a partir de Febrer de 2024!
Clément Mathieu, un professor de música a l'atur, rep una oferta de feina com a vigilant en un internat per a nois problemàtics. Allà coneixerà a uns nois que li donaran l'al·licient per a tornar a la seva gran passió: LA MÚSICA.
Posa en marxa una coral per, a través de la música, treure el millor de cada noi. Enfront dels mètodes dictatorials del director del centre, Sr. Rachin, al cap del temps, els alumnes arribaran a formar un reeixit cor. La força creativa de la música arriba al cor de tots i obre les portes a la companyonia, la solidaritat i l'amor.
Fitxa artística:
Director musical Rodrigo Álvarez
Producció KAK Group i AMR
Director de escena Juan Luis Iborra
Address:

Casp, 8*10

:

Eixample

Neighborhood:

la Dreta de l'Eixample

City:

Barcelona
Where
When

From 08/02/2024 to 31/03/2024
Website
Web venda d'entrades:
You may also be interested in...