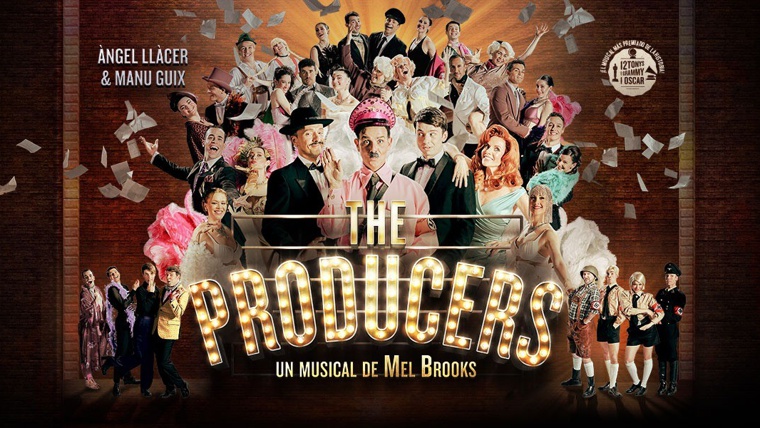 Musical. A fun comedy full of hilarious situations, charming characters and spectacular songs that has left its mark on the history of theatre.
Max Bialystock, a bankrupt Broadway producer, and Leo Bloom, a young accountant, dream of getting rich with a surprising plan. To achieve their goal, they need to produce the biggest musical theatre failure in history and run off with the money from the investors. Yet getting an authentic disaster off the ground is not an easy task at all. They need to find the worst scriptwriter, the worst team of directors, the worst actors and launch a shockingly bad show. Will they manage it?
The Producers, the comedy created by Mel Brooks, has picked up the most awards in history for a musical (Tony, Oscar, Grammy).
Artistic team
Director: Àngel Llàcer and Enric Cambray; Music directors: Manu Guix and Gerard Alonso; Choreography: Miryam Benedited.
Show in Spanish.
Duration: 150 minutes.
Schedule
Days
Hours
Preus
Observation

Dimecres i dijous, 15 setembre i
31 octubre excepte 1 novembre

a les 20.00 h

Entrada general de: 23.5 a 67 €




+ despeses de gestió.

Durada: 2 hores 30 minuts

Divendres i dissabte excepte 15 setembre i 3 novembre

a les 17.00 h i
a les 21.00 h

3 novembre

a les 21.00 h

Diumenge i
1 novembre

a les 17.30 h
Max Bialystock, un productor de Broadway que està en la ruïna, i Leo Bloom, un jove comptable, somien en fer-se rics amb un pla sorprenent. Per aconseguir el seu objectiu, han de produir el fracàs més gran de la història del teatre musical i fugir amb els diners dels inversors. Però posar en marxa un autèntic desastre no és gens fàcil. Han de trobar el pitjor guió, el pitjor equip de direcció, els pitjors actors i estrenar un show absolutament espantós. Ho aconseguiran?
Aquesta extraordinària i divertidíssima comèdia creada per Mel Brooks és el musical més premiat de la història (Tony, Oscar, Grammy) ple de situacions hilarants, personatges encantadors i espectaculars números musicals que han marcat la història del teatre.
Direcció: Àngel Llàcer i Enric Cambray
Director musical Manu Guix i Gerard Alonso
Coreografia Miryam Benedited
Àngel Llàcer, Manu Guix presenten el seu quart musical amb Nostromo Live. THE PRODUCERS. La direcció artística comptarà amb Àngel Llàcer i Enric Cambray com a directors d'escena, Manu Guix i Gerard Alonso en la direcció musical i Miryam Benedited en la coreografia. Aquest nou projecte arriba després de les reeixides comèdies musicals, "La Jaula de las Locas", "La Tienda de los Horrores", "Cantando Bajo la Lluvia". Aquestes produccions han aconseguit emocionar a més d'1 milió d'espectadors durant els últims 5 anys i múltiples premis en els quals destaquen 16 Premis Butaca.
Address:

Casp, 8*10

:

Eixample

Neighborhood:

la Dreta de l'Eixample

City:

Barcelona
Where
When

From 15/09/2023 to 05/11/2023
Website
Web venda d'entrades:
You may also be interested in...