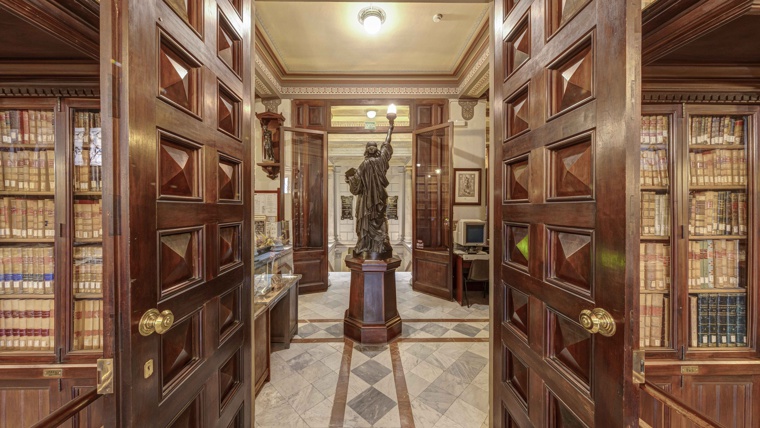 Visits. A guided tour of Biblioteca Arús and the Sherlock Holmes Collection.
In this tour, visitors will be immersed in the history of the founding of the Biblioteca Arús library in 1895 and its collections about the social movements of the 19th and 20th centuries.
Participants will also be able to see Joan Proubasta's Sherlock Holmes Collection, which is currently regarded as the most important private Sherlock Holmes collection in Spain and one of the ten most important in the world.
The tour includes a gift from Xocolata Amatller.
Schedule
Days
Hours
Preus
Observation

Dimarts

a les 19.00 h

Entrada general: 29 €

Preu fins al juny 50% descompte: 14,5 €

Dos grups (català i castellà)
Others
Occur on:

Tickets sold at:
Visita guiada a la Biblioteca Arús i a la col·lecció Sherlock Holmes i un regal de Xocolata Amatller
Visita a la Biblioteca Arús ens permet aprofundir en la història de la seva fundació l'any 1895 i dels seus fons al voltant dels moviments socials dels segles XIX i XX. També, podrem visitar la col·lecció Sherlock Holmes de Joan Proubasta, actualment considerada la col·lecció privada dedicada a la figura de Sherlock Holmes més important d'Espanya i una de les 10 més importants del món.
Address:

Passeig de Sant Joan, 26

:

Eixample

Neighborhood:

el Fort Pienc

City:

Barcelona
When

From 28/06/2022 to 20/09/2022
Website
Web venda d'entrades:

Web:
E-mail
E-mail venda d'entrades:

casessingulars@casessingulars.com
You may also be interested in...