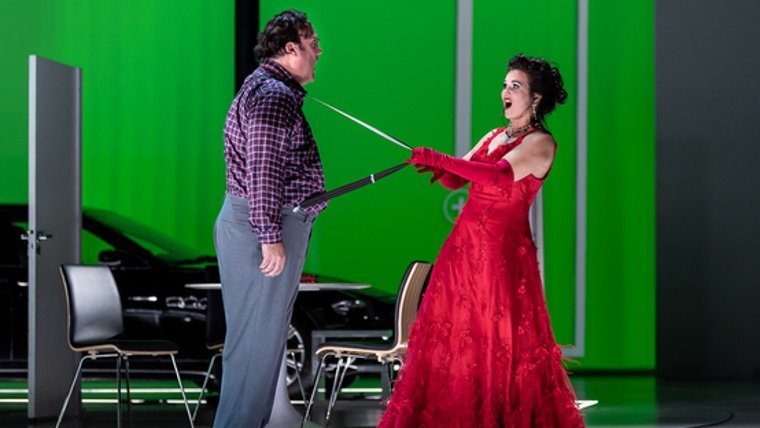 Opera. Is an old man entitled to love and live?
Donizetti's opera, Don Pasquale, which premiered at the Théâtre Italien in Paris in 1843, tells the comic story of a double deception and a clash between generations that triggers the play-acting of an old man who decides to get married to scuttle his nephew's plans.
Based on Donizetti's radiant score, Damiano Michieletto's production at the Liceu sets the story in the modern day, where the characters can be seen as archetypes of the commedia dell'arte, but in our small world.
Opera buffa in three acts; libretto by Giovanni Ruffini and Gaetano Donizetti.
Approximate duration: 2 hours and 40 minutes.
You can check out the cast here.
Schedule
Days
Hours
Preus
Observation

21 setembre,
22 setembre,
27 setembre,
1 octubre,
3 octubre i
6 octubre

a les 19.00 h

Entrada general de: 15 a 295 €

Informació sobre abonaments i
descomptes a la web i taquilles
del teatre

25 setembre

a les 17.00 h

8 octubre i
9 octubre

a les 18.00 h
Don Pasquale, un home vellard i decadent que viu un autèntic malson, decideix prendre per esposa Norina amb l'objectiu d'anul·lar els plans del seu nebot Ernesto. Ernesto, però, amb l'ajuda del doctor Malatesta, es compromet a atrapar Don Pasquale a la seva pròpia trampa, encarregant el paper de núvia a Norina, la seva promesa. Primer dòcil i després absolutament intractable, Norina sobresurt en el joc de les falses aparences.
El xoc entre dues generacions aviva la comèdia alhora que també produeix una corrent subterrània de nostàlgia. Té dret a estimar i viure un senyor d'edat? El salt al buit d'aquell que estima amb valor.
Don Pasquale, estrenat al Théâtre Italien de París l'any 1843 (on Donizetti s'havia instal·lat des del 1838), presenta una història còmica d'un engany sobre un altre engany; títol estimat que ha aixecat més d'un somriure al públic de moltes generacions. Ja des de la brillant obertura, capolavoro que ignora el model rossinià, es va desplegant una vivaç elegància i una perfecta simbiosi entre música i text. Obra mestra d'un geni on la música ja és de per si eminentment teatral.
A partir de la partitura radiant de Donizetti, segons diu la llegenda, escrita només en 10 dies, l'enginyosa producció de Damiano Michieletto segueix sent divertida i plena de vida com mai. Amb sinceritat i profunditat dramàtica, en aquesta proposta situada a l'actualitat reconeixem els personatges com a arquetips de la commedia dell'arte però del nostre petit món i, immediatament, resulten commovedors. Michieletto obre un camí cap al cor d'una obra aparentment alegre, considerada l'apoteosi de l'òpera bufa.
La riquesa melòdica, un del principals aspectes musicals, subratlla la farsa; una farsa extremadament cruel com ho és el càstig a Falstaff de Verdi. Una comèdia molt divertida i alhora emotiva, pertorbadora i burlesca.
Fitxa artística
Direcció d'escena: Damiano Michieletto
Escenografia:Paolo Fantin
Vestuari: Agostino Cavalca
Il·luminació: Alessandro Carletti
Vídeo: Roland Horvath / rocafilm
Producció: Opéra de Paris, Royal Opera House (Londres) i Teatro Massimo di Palermo
Address:

C la Rambla, 51*59

:

Ciutat Vella

Neighborhood:

el Raval

City:

Barcelona
When

From 21/09/2022 to 09/10/2022
Website
Web venda d'entrades:
You may also be interested in...