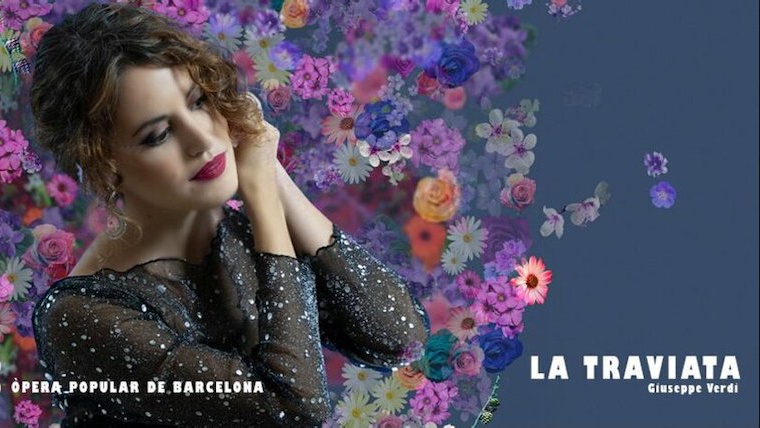 Opera. One of the most widely staged and acclaimed operas in the world, performed by the Òpera Popular de Barcelona.
Verdi's classic is back, with a new production at the Palau de la Música.
The refined debauchery of Paris, the most depraved city in the world, hovers surreptitiously, hidden like an unmentionable secret sin. It is only plausible goal of the characters who drift through the salons, scorning love; transgression pervades purity like a fog that's impossible to disperse. Death is the only pious - and absurd - way out for Violetta, 'la traviata', the fallen woman, the object and victim of their pleasure.
Schedule
Days
Hours
Preus

11 febrer,
1 abril,
3 juny i
21 octubre

a les 18.00 h

Entrada general de: 38 a 78 €
Fitxa artística
Josep Miquel Mindán, director musical
Xavier Puig, director musical (dia 11 de febrer de 2023)
Jaume Villanueva, posada en escena
Orquestra de cambra Terrassa 48
Quim Térmens, concertino
Èric Varas, director del cor
Daniel Flores, coreografia
Mariana Giustina Baravalle, coreografies de Violetta nena
Òpera Popular de Barcelona, companyia estable:
Núria Vilà, Violetta Valéry
Kimiyo Nakako, Flora Bervoix, sua amica
Ingrid Ustrell, Annina, serva di Violetta
Facundo Muñoz, Alfredo Germont
Jorge Tello, Giorgio Germont, suo padre
Adrià Mas, Gastone, visconte di Létorières
Xavier Casademont, il barone Douphol
Néstor Pindado, il marchese d'Obigny
Antonio Fajardo, il dottor Grenvil
José Luís González, Giuseppe, servo di Violetta
Ariel Domingo Seras, un domestico di Flora / un commissionario
Programa
G. Verdi: La traviata
Una traviata per Marcel Proust
La refinada perversió de París, la ciutat més depravada del món, gravita subreptíciament, oculta com un pecat inconfessable i secret. Únic objectiu plausible dels personatges que transiten pels salons, menystingut l'amor, la transgressió envaeix la puresa com una boira impossible de dissipar. La mort és l'única sortida piadosa —i absurda— que concedeixen a Violetta, la traviata, la perduda, objecte i víctima dels seus plaers.
Address:

C Palau de la Música, 2

:

Ciutat Vella

Neighborhood:

Sant Pere, Santa Caterina i la Ribera

City:

Barcelona
When

From 11/02/2023 to 21/10/2023
Website
Web venda d'entrades:
E-mail
E-mail:

taquilles@palaumusica.cat
You may also be interested in...