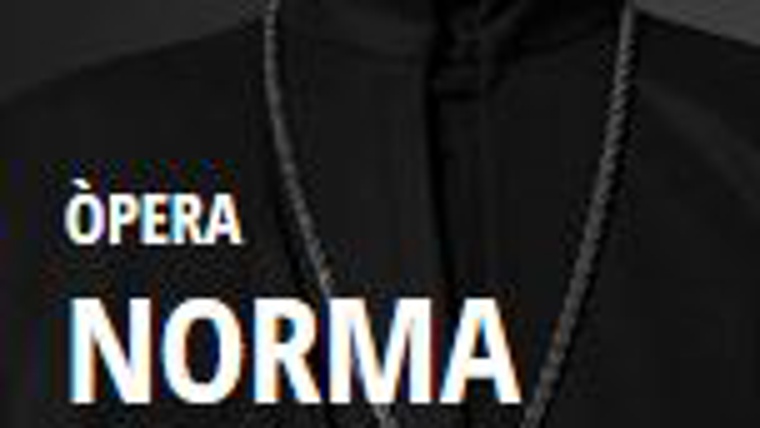 Schedule
Days
Hours
Preus
Observation

18 juliol,
19 juliol,
21 juliol,
22 juliol,
25 juliol,
26 juliol,
27 juliol,
28 juliol i
30 juliol

a les 19.00 h

Entrada general fins a 20 €

Informació sobre abonaments i
descomptes a la web i taquilles
del teatre

24 juliol

a les 17.00 h

31 juliol

a les 18.00 h
Norma, que descobreix l'amor prohibit entre la seva companya Adalgisa i Pollione, passarà per molts estats emocionals: des de ser la furiosa dona que crida a les armes fins a sacrificar la seva vida. Quin és el seu paradís: el refugi de la fe?, l'amor de Pollione?, el benestar de la seva societat?
Aquesta extraordinària producció signada per Àlex Ollé per a la Royal Opera House de Londres actualitza Norma situant-la en el context d'una religió opressora. Tot explorant el conflicte entre els desitjos individuals i els de la comunitat, Ollé assenyala la religió com a força aglutinadora i una manera d'ordenar el món, però alhora també com un element repressor davant l'individu que vol separar-se de la llei. Norma, en ple debat entre la seva voluntat o la llibertat del seu poble, està completament atrapada per les referències col·lectives (les regles socials i el pes dels símbols antics i de la fe). Els seus dubtes i la seva fragilitat apareixen com a ressonàncies contemporànies davant d'una religió entesa com a fanatisme, llei inflexible i instrument cec. Les normes ofeguen Norma, filla sotmesa, amant traïda i mare desesperada.
Fitxa artística
Direcció d'escena: Àlex Ollé
Escenografia: Alfons Flores
Vestuari: Lluc Castells
Il·luminador: Marco Filibeck
Video: Finn Ross
Producció: 'Norma' ha estat produïda en associació amb la Royal Opera House Covent Garden de Londres. Aquesta producció es va veure per primera vegada a la Royal Opera House de Londres el 12 de setembre de 2016.
Cor del Gran Teatre del Liceu (Conxita Garcia, directora)
Orquestra Simfònica del Gran Teatre del Liceu
Director: Domingo Hindoyan
Address:

C la Rambla, 51*59

:

Ciutat Vella

Neighborhood:

el Raval

City:

Barcelona
When

From 18/07/2022 to 31/07/2022
Website
Web venda d'entrades:
You may also be interested in...