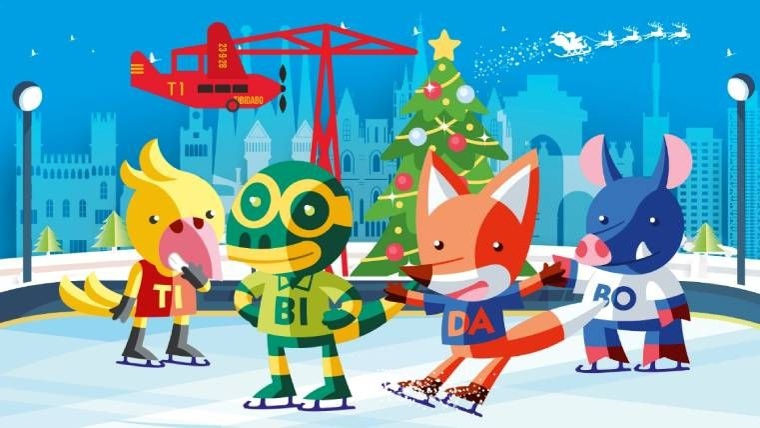 Skating. The Amusement park celebrates Christmas with an ice rink open to all.
The ice rink of  200 m2 has a capacity for 40 people and is installed in Plaça dels Somnis. It will be operative whenever the park is open, up until 5 January.
For sustainability purposes, the rink is made of synthetic materials and affords users a very similar experience to skating on real ice. The materials in question are polyethylene panels, a revolutionary new solution with no energy consumption because unlike conventional rinks there is no need for electricity to conserve the ice.
Access to the ice rink is included in the admission price for Tibidabo, but there is also a chance for people to use the rink without visiting the rest of the park, at a price of 5 euros.
Schedule
Period
Days
Hours
Preus

Del 26 novembre al 27 novembre

Dissabte i diumenge

d'11.00 h a 19.00 h

Entrada inclosa a l'entrada del Parc d'atraccions

(així com en el passi anual TibiClub)

En el cas de voler visitar només l'Àrea Panoràmica, es podrà patinar

adquirint un tiquet per 5 € a les taquilles 

De l'1 desembre al 21 desembre

Dissabte, diumenge i festius, 5 desembre,
7 desembre i
9 desembre

d'11.00 h a 18.00 h

Del 22 desembre al 5 gener

Tots el dies excepte 25 desembre, 26 desembre i 1 gener

d'11.00 h a 18.00 h
El Parc d'atraccions Tibidabo celebra el Nadal amb una pista de gel oberta a tota la ciutadania. La pista s'instal·larà a la Plaça dels Somnis i estarà operativa del 26 de novembre al 5 de gener, sempre que el Parc estigui obert.
Aquesta pista, de 200 m2 i amb capacitat per a 40 persones, està feta d'un material sintètic que permet obtenir sensacions molt similars a les de patinar sobre gel real, garantint així la sostenibilitat. En concret, està feta de panells de polietilè, un material nou i revolucionari amb un consum energètic inexistent ja que, a diferència de les pistes de gel convencionals, no necessita aigua ni electricitat per conservar-se.
L'accés a la pista de gel està inclòs al preu de l'entrada al Parc, però també hi haurà la possibilitat de fer ús de la pista sense visitar la resta del Parc, abonant 5 euros.
Address:

Plaça del Tibidabo, 3

:

Sarrià-Sant Gervasi

Neighborhood:

Vallvidrera, el Tibidabo i les Planes

City:

Barcelona
When

From 26/11/2022 to 05/01/2023
Website