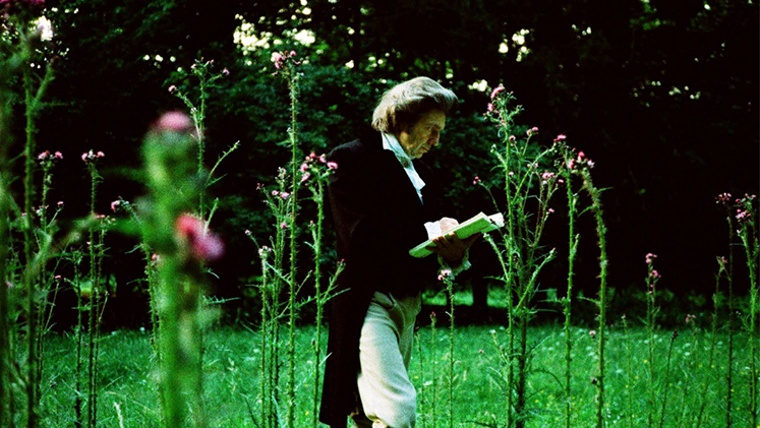 Artistic installation. The first showing in the Spanish state of Albert Serra's obra magna, a film of 101 hours in display format.
Ten years ago, at the invitation of the documenta exhibition in Kassel, the film director Albert Serra produced a film over the course of the 100 days the event lasted. Every day entailed on-site filming, production and projection. The result was Els tres porquets [The Three Little Pigs], a film lasting 101 hours. Now the Fabra i Coats is presenting this work in the form of a multi-screen installation.
Through this filmic experiment, Serra explores the medium of performance, as well as loyalty to autobiographical texts and the symbolic construction of history. Approached as a continuous narrative flow, amateur actors literally recite the words attributed to the characters of three books: Conversations with Goethe, by J.P. Eckermann, Table Talk, by Adolf Hitler, and a selection of interviews with Rainer Werner Fassbinder.
The works are used to create a portrait of the ideas of the three figures which shape key moments in German history and the construction of Europe.
Els tres porquets comes out of the German context for the first time thanks to this initiative by the Fabra i Coats, which felt the need to show this obra magna and has undertaken the monumental task of translating and subtitling the 101 hours of film, in an exercise expected to last ten months.
Schedule
Days
Hours
Preus

Dimarts, dimecres, dijous, divendres i dissabte excepte 24 desembre i 31 desembre

de 12:00 h a 20:00 h

Entrada Gratuïta

24 desembre i
31 desembre

de 12:00 h a 18:00 h

Diumenge i festius

excepte 25 desembre, 26 desembre, 1 gener, 6 gener i 1 maig

d'11:00 h a 15:00 h
Convidat per la dOCUMENTA13 l'any 2012 Albert Serra crea 'Els tres porquets', una pel·lícula de 101 hores amb Goethe, Hitler i Fassbinder com a protagonistes. Filmada a Kassel de manera fragmentària per ser projectada cada dia durant els tres mesos que dura la dOCUMENTA, a la Fabra i Coats es presentarà en el seu format d'instal·lació multipantalla.
Amb aquest experiment cinematogràfic Serra explora la performativitat del mitjà, però també la fidelitat als textos autobiogràfics i la construcció simbòlica de la història. Plantejada com un flux continu de discurs, els actors no professionals reciten de forma literal les paraules que se'ls hi atribueixen a aquests personatges en tres llibres: 'Converses amb Goethe', de J.P. Eckermann, 'Les converses privades' d'Adolf Hitler i un recull d'entrevistes a Rainer Werner Fassbinder. A través de les seves dissertacions es dibuixa la personalitat i les idees de tres figures que marquen tres moments clau en la història alemanya i en la construcció d'Europa.
Es tracta de l'estrena en primícia a l'estat espanyol d''Els tres porquets', que surt per primera vegada del context alemany gràcies a la iniciativa de la Fabra i Coats, que ha cregut en la necessitat de poder ensenyar aquesta obra magna del nostre cineasta més internacional a Catalunya. Amb aquest objectiu, i amb el suport del Departament de Cultura de la Generalitat de Catalunya i el Goethe Institut, la Fabra ha encarregat i capitanejat la tasca titànica de traducció i subtitulació de les 101 hores de pel·lícula, que es preveu duri deu mesos.
Address:

Carrer de Sant Adrià, 20

:

Sant Andreu

Neighborhood:

Sant Andreu

City:

Barcelona
When

From 19/11/2022 to 12/02/2023
Website
You may also be interested in...