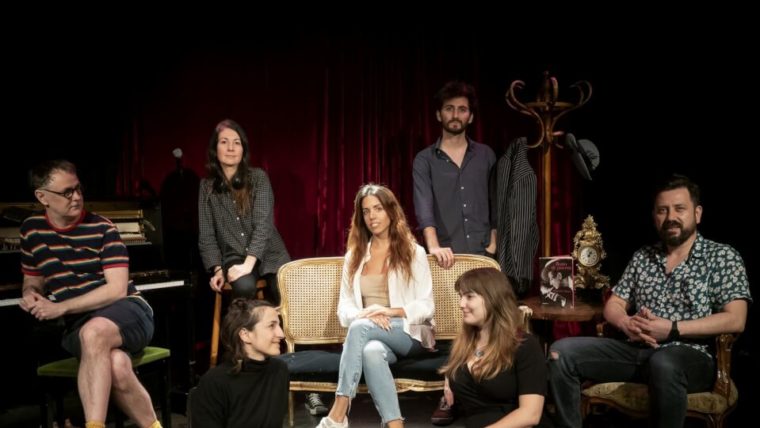 Activitat No presencial.
Shows. Do you enjoy the radio? Don't miss this radio musical about Moctezuma's daughter.
Virtual activity
This production has the feel of authentic underground café theatre to it, with a show that talks to us of the characters who crossed the Atlantic and allowed themselves to be imbued with the experience, and the art of the old and the new continent.
If you are interested in listening to the texts and songs from this production, created by Felipe Cabezas and Pere Cabaret, make sure you get the podcasts.
This radio podcast is part of the Barcelona Grec Festival's 'Local Grec' section, dedicated to creating virtual content from productions that should have been seen this summer in the city's small-format theatres.
This play talks about Xipaguazin Moctezuma, the Aztec emperor's daughter who was abducted and taken to Catalonia in the 16th century. Her story sets the scene for a delicious legend about treasure buried in the Catalan Pyrennees and the sudden appearance of an extravagant heir in the 20th century.
Humour, music, café theatre and a string of rhythms and characters that have crossed the ocean in one direction or another.
Duration: 40 minutes. Show in Spanish
Schedule
| | Days | Hours | Preus | Observation |
| --- | --- | --- | --- | --- |
| | 15 de desembre | Horari no definit | Entrada general de: 4.20 € | Rebrà les instruccions de com accedir-hi al seu ticket. |
Gènere: Ràdio Teatre
Durada: 40 minutsIdioma: Espectacle en castellà
¿Us agrada la ràdio? Doncs segur que us fascinarà aquesta experiència, en la qual un muntatge de teatre musical, es transforma en una versió de radioteatre. L'esperit de el cafè teatre més underground sobrevola un muntatge que ens parla de personatges que van creuar l'oceà Atlàntic i es van deixar impregnar per l'experiència i l'art del Vell i el Nou Continent. Van creuar un pont transoceànic invisible que existeix des de fa segles i que segueix en peu. Si voleu escoltar com sonen els textos i les cançons que formen part d'aquest muntatge imaginat per Felipe Cabezas i Pere Cabaret, no us perdeu els podcasts.
Aquest podcast de radio forma part de la proposta en línia de Grec Festival de Barcelona Grec de proximitat, dedicada a generar contingut virtual a partir de les produccions que haurien hagut de veure aquest estiu a les sales de petit format de la ciutat.
Aquesta segona part parlarà de XIPAGUAZIN MOCTEZUMA, filla de l'emperador asteca raptada i traslladada a Catalunya en el segle XVI. La seva història va donar peu a una deliciosa llegenda sobre el tresor enterrat en el pirinenc català i l'aparició espontània d'un extravagant hereu en el segle XX.
Humor, música, cafè-teatre i molts ritmes i personatges que han creuat l'oceà en una o altra direcció.
Activitat digital de Sala Fènix
Address:

C Riereta, 31

:

Ciutat Vella

Neighborhood:

el Raval

City:

Barcelona
Where

Activitat digital de Sala Fènix
When

Permanent event
Website
Web venda d'entrades:
You may also be interested in...