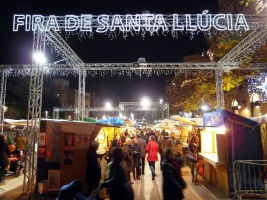 Schedule
| | Days | Hours | | |
| --- | --- | --- | --- | --- |
| | Tots el dies | de 10.00 h a 21.00 h | | |
Un any més, i des del 1786, ja en seran 235, la Fira de Santa Llúcia, com sempre a l'Avinguda de la Catedral de Barcelona, ens tornarà a omplir de llum, il·lusió i esperança.
La Fira de Santa Llúcia, com l'any passat, serà un espai totalment segur amb totes les mesures de prevenció que recomana el Procicat.
La Fira real, la de tota la vida, la trobareu com cada any, a l'Avinguda de la Catedral de Barcelona; amb un total de 170 parades, es l'única fira del món on trobareu més de 140 espais de venda de productes estrictament nadalencs, com pessebres, figuretes, molsa, arbres de nadal, complements per a la vostra llar i molts d'altres; A més a més, també podreu gaudir de més de 25 espais dedicats a articles de regal, com complements tèxtils, ceràmica, joieria i bijuteria, cuir, etc.
Les parades de la Fira s'agrupen en quatre sectors artesanals:
Pessebres i figures, on s'ofereixen principalment: complements del paisatge del pessebre, coves, figures, llums de nadal, boles, espelmes i decoració nadalenca per la llar, pessebres i arbres.
Verd i vegetació, on podeu trobar arbres naturals o artificials, molsa, tiós de totes mides, suro pelegrí, ramets de la sort, branques d'eucaliptus i similars.
Artesania, on trobareu tota mena de productes artesanals i complements com roba, joieria, objectes de decoració i regal i molts d'altres.
Simbombes, on us oferiran, a més del tradicional instrument, panderetes i molts d'altres estris per donar un toc musical al vostre nadal.
Voltants de la Catedral de Barcelona
Address:

Av Catedral, 1

:

Ciutat Vella

Neighborhood:

el Barri Gòtic

City:

Barcelona
Where

Voltants de la Catedral de Barcelona
When

From 25/11/2022 to 23/12/2022
Website
You may also be interested in...