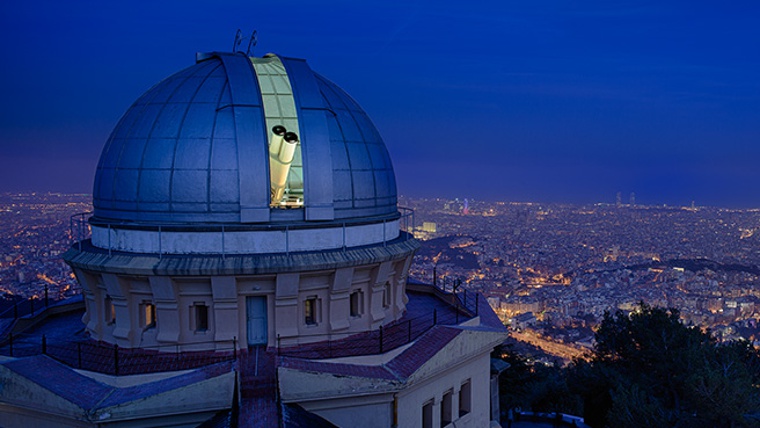 Scientific dissemination. Activity that combines gastronomy and astronomy.
Fabra Observatory is hosting "Dinner with Stars" this summer, an activity that combines scientific dissemination and astronomy observation with a tantalising gastronomic experience.
The evening starts with dinner with astronomy as the key element, served on the terrace of the observation point. Dinner is followed by a talk and a visit to the museum and the great dome hall, from where visitors can observe faraway constellations, stars and a large part of the solar system using a telescope from 1904, one of the largest ad oldest in Europe and still in working order.
The lectures are in Spanish and Catalan, so make sure you check which one it will be. You can find the calendar in this link
Programme
8.15 pm Registration and welcome with a glass of cava, beer or juice.
8.30 pm Dinner on the observation point terrace.
9.45 pm Scientific talk.
10.10 pm Guided tour: and observation with the telescope.
23.30 pm Fabra Observatory evening ends.
Schedule
Days
Hours
Preus
Observation

Dimarts, dimecres, dijous, divendres, dissabte i diumenge

de 20.15 h a 23.30 h

Entrada general de: 75 a 125.5 €

(segons menú)




Menús infantils: de 37,50 a 44 €

Els preus son per persona




Cal fer reserva prèvia
L'Observatori Fabra acull "Sopar amb estrelles" durant els mesos d'estiu, una activitat que combina la divulgació científica i l'observació astronòmica amb una suggerent proposta gastronòmica.
Els sopars tenen lloc a l'aire lliure, en un dels miradors privilegiats de la ciutat de Barcelona. La vetllada s'inicia amb el sopar, una imaginativa i deliciosa proposta gastronòmica pensada en clau astronòmica, que se serveix a la terrassa.
A continuació es fa una visita al museu, la sala noucentista i el telescopi de passos, i s'accedeix a la sala de la gran cúpula, que conserva els elements originals. Des de la cúpula, es podrà observar elements de constel·lacions llunyanes, estrelles i gran part del sistema solar, amb el telescopi de 1904, un dels més grans i antics d'Europa encara en funcionament.
Les conferències són en català o castellà, cal comprovar l'idioma de la conferència. Podeu consultar el calendari en aquest enllaç
Programa
20:15 h Registre d'entrada i benvinguda amb copa de cava, cervesa o suc.
20:30 h Sopar a la terrassa mirador
21:45 h Conferència científica
22:10 h Visita guiada i observació a través del telescopi
23:30 h Finalització de la vetllada a l'observatori Fabra
Address:

Ctra Observatori Fabra, 27

:

Sarrià-Sant Gervasi

Neighborhood:

Vallvidrera, el Tibidabo i les Planes

City:

Barcelona
Where
When

From 03/06/2022 to 02/10/2022
Website
Web venda d'entrades: