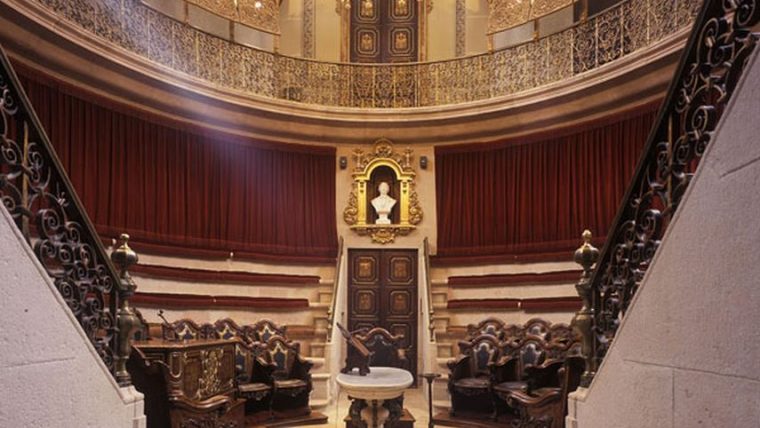 Neuroscience and gastronomy. Can a dinner reveal how the brain constructs reality?
The Sopar dels Sentits is a cultural experience that aims to bring the history of medicine to Barcelona, as well as providing an introduction to the basics of sensory neuroscience through a gastronomic game involving every one of the senses.
The dinner menu shows how the brain constructs reality, using the information it receives from the senses. And how that reality that reaches us through the senses doesn't always coincide with the one we think we're experiencing.
The activity is scheduled to start at 7.30 pm, with a welcome for those attending. Prior booking is required.
You can find more details about the activity here.
Schedule
Days
Hours
Preus
Observation

Dissabte

de 19.30 h a 23.00 h

Entrada general: 78 € Entrada general de: 73 €

Per a descomptes consulteu
el web de reserves.
El Sopar dels Sentits és una nova experiència cultural a la Reial Acadèmia de Medicina de Catalunya (RAMC) que vol apropar la història de la medicina a Barcelona, així com introduir els assistents a les bases de la neurociència sensorial a través d'un joc gastronòmic on participen tots els sentits.
El sopar consisteix en un menú que ens mostrarà com el cervell construeix la realitat amb la informació que li arriba dels sentits. I com aquesta realitat pot resultar sorprenent, ja que la realitat que ens entra pels sentits no sempre coincideix amb el que creiem estar vivint. Tot un joc gatronòmic pensat per omplir-nos de percepcions sensorials a base de música, sabors, colors, olors i textures.
Horari activitat:
19:30h: Recepció dels assistents, copa de benvinguda i joc de neurociència.
19:40h Inici de la visita guiada per la Reial Acadèmia de Medicina de Catalunya
20:10h: Activitat d'hipnòsis
21:00h: Sopar dels Sentits a la sala Turró
23:00h: Finalització de la vetllada a la RAMC
Address:

C Carme, 47

:

Ciutat Vella

Neighborhood:

el Raval

City:

Barcelona
When

Permanent event
Website
Web venda d'entrades:
E-mail
E-mail reserves:

reservas@sternalia.com
You may also be interested in...