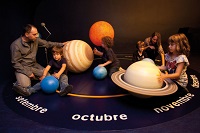 Schedule
Days
Hours
Preus
Observation

Dissabte, diumenge i festius

a les 10.30 h i
a les 18.00 h

Entrada general: 6 €




Descompte 50%: Clients CaixaBank

a les 14.00 h
El Planetari Bombolla és un espai on els infants podran gaudir del seu primer contacte amb el món de l'astronomia, que els despertarà la curiositat per l'univers.
Edat recomanada: a partir dels 5 anys.
Address:

Carrer d'Isaac Newton, 26

:

Sarrià-Sant Gervasi

Neighborhood:

Sant Gervasi - la Bonanova

City:

Barcelona
Where
When

From 15/04/2023 to 18/06/2023
Website
You may also be interested in...