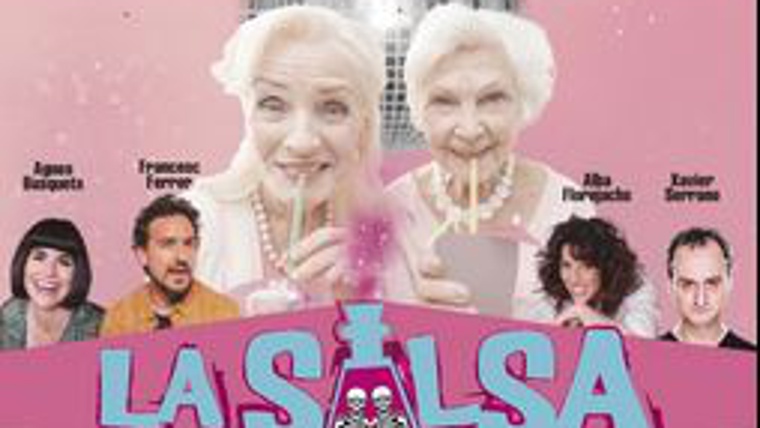 Schedule
Days
Hours
Preus
Observation

Dimecres, dijous i divendres excepte 6 desembre, 8 desembre, 4 gener i 5 gener

a les 20.00 h

Entrada general de: 16 a 18 €




(+ despeses de gestió)

Dissabte excepte 10 desembre, 17 desembre, 24 desembre i 31 desembre

a les 17.30 h i
a les 20.00 h

10 desembre i
17 desembre

a les 18.00 h i
a les 20.30 h

31 desembre

a les 22.15 h

Entrada general: 40 €

(+ despeses de gestió)

Diumenge, 6 desembre i
8 desembre excepte 1 gener

a les 18.00 h

Entrada general de: 16 a 18 €




(+ despeses de gestió)

26 desembre i
1 gener

a les 19.00 h
Others
Occur on:

Tickets sold at:
Què faries si en decidir posar fi a la teva vida se't donés la possibilitat de començar de nou? LA SALSA ens conta la història de dues ancianes que en descobrir per error l´elixir de la joventut decideixen fer tot el que no van fer en la seva joventut. Però a més aquesta situació els dona l´oportunitat de reconnectar amb els seus fills, uns fills amb els quals la relació s´havia marcit pe complet: elles incompreses i aparcades en una trista residència i ells aparentant vides que no són el que semblen ser. Dels creadors de "Paradise" i "Oh, Mami", arriba la nova comèdia de NICO&SUNSET plena d´enrenou, ritme i molt....saborrrrr!
AUTOR: Oriol Vila
DIRECCIÓ: Nico & Sunset
REPARTIMENT: Agnès Busquets, Alba Florejachs, Francesc Ferrer i Xavier Serrano
Address:

Av Sarrià, 33

:

Eixample

Neighborhood:

la Nova Esquerra de l'Eixample

City:

Barcelona
Where
When

From 19/11/2022 to 29/01/2023
Website
Web venda d'entrades:
You may also be interested in...