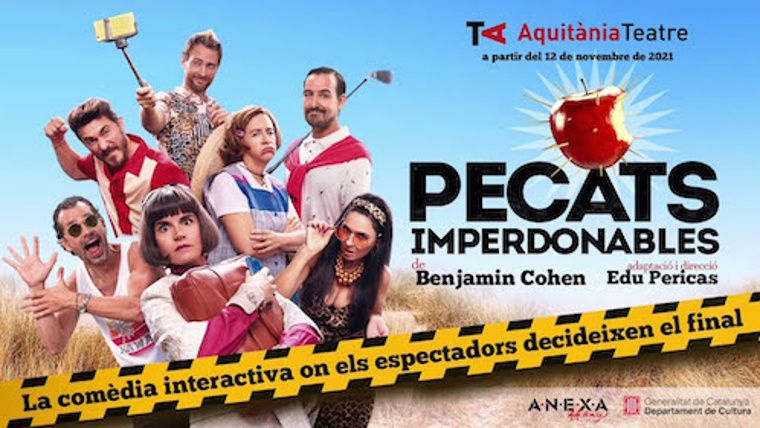 Interactive comedy-thriller, where audiences choose the ending by voting with their mobiles.
Packed with suspense, this comedy-thriller has its characters reveal the misery of the human existence, through their sins. The show is based on a text by Benjamín Cohen, ¨Sin perdón por los pecados" which was a big box-office hit in its time in Panama.
The work presents the story of a family business in the Ebro Delta area which, because of the mistakes made by the second generation, collapses and becomes insolvent. After the death of the founder of the business, the family decides to meet up and, what is supposed to be an act of reconciliation, becomes a deathly battle where everyone defends what they believe falls to them.
An interactive comedy, emulating the new trend in interactive films appearing on the Netflix platform ( Black Mirror: Bandersnatch), which has been such a hot topic on social networks, this play enables its audiences to interact live as well to influence the development of the comedy and decide its ending. They can vote using their mobiles for the ending they prefer to see that day; there are three possible endings that it gives to the play's three possible final dramatic developments.
Starring: Francesc Ferrer, Susanna Garrachana, Miquel Sitjar, Agnès Busquets, Peter Vives, Jordi Borrás and Eva Barceló.
Schedule
Days
Hours
Preus
Observation

Dimarts, dimecres i dijous excepte 5 gener i 6 gener

a les 20.30 h

Entrada general: 29 €

Més despeses de gestió

6 gener

a les 18.00 h

Divendres, 18 desembre,
25 desembre i
1 gener excepte 24 desembre i 31 desembre

a les 20.00 h

Dissabte excepte 18 desembre, 25 desembre i 1 gener

a les 17.30 h i
a les 20.00 h

Diumenge

a les 18.30 h
Others
Occur on:

Tickets sold at:
És una comèdia-thriller, carregada de suspens, on els personatges mostraran, a través dels seus pecats, la misèria de l'ésser humà. L´espectacle està basat en un text de Benjamín Cohen, ¨Sin perdón por los pecados" que va estar un gran èxit de taquilla en el seu moment a Panamà.L'obra presenta la història d'una empresa familiar de la zona de Delta de l´ Ebre que, gràcies als errors comesos per la segona generació, van en picat cap a la fallida. Després de la mort del fundador de l'empresa, la família decideix reunirse i, el que se suposava que anava a ser un acte de reconciliació, es converteix en una batalla mortal on tothom defendrà el que creu que li correspon.
Una comèdia INTERACTIVA; emulant la nova tendència de pel·lícules interactives aparegudes a la plataforma Netflix (Black Mirror: Bandersnatch), que tant ha donat què parlar a les xarxes, en aquesta obra teatral els espectadors podran igualment interaccionar en directe per interferir en el desenvolupament de la comèdia i decidir el final de l'obra. A través delmòbil podran votar sobre quin és el final que prefereixen veure aquell dia; hi ha tres possibles finals que donarà peu a tres possibles desenvolupaments dramatúrgics finals de l'obra.
Amb: Francesc Ferrer, Susanna Garrachana, Miquel Sitjar, Agnès Busquets, Peter Vives, Jordi Borrás i Eva Barceló.
Address:

Av Sarrià, 33

:

Eixample

Neighborhood:

la Nova Esquerra de l'Eixample

City:

Barcelona
Where
When

From 12/11/2021 to 27/02/2022
Website
Web venda d'entrades:
You may also be interested in...