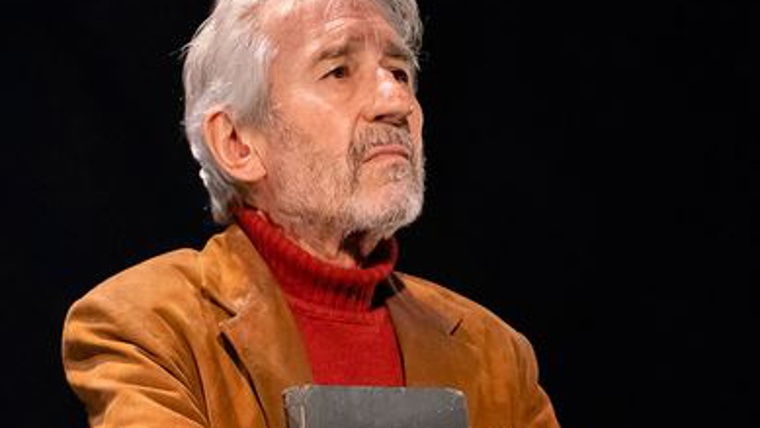 Shows. A painter in creative crisis since the death of his wife relives the various stages of his marriage.
A painter, with many years in the trade, has been plunged into a creative crisis. Ever since the unexpected death of his wife, who was everything for him, he has hardly been able to go back to painting.
We're back in the summer and autumn of 1975. Their eldest daughter is in prison for her political activities and it is during this period, when the first symptoms of her mother's illness appear, that she has to bide her time in prison. It's another constant memory in the life of her father, who is also reliving it now.
This play is a rendering of a story of love along an unstoppable path to death, taking us back to a unmistakeable Spain, talking to us of happiness and its loss, and reaching the innermost recesses of every human, and their emotions, along the straight, simple trail of truth.
Artists
Author: Miguel Delibes
Performers: José Sacristán, Mercedes Sampietro (voice of Ana)
Adaptation: José Sámano, José Sacristán and Inés Camiña
Director: José Sámano
Schedule
Days
Hours
Preus
Observation

Dimarts, dimecres, dijous, divendres i dissabte

a les 20.30 h

Entrada general: 18 €




(+ despeses de gestió)

Diumenge

a les 18.30 h
Others
Occur on:

Tickets sold at:
Un pintor, amb molts anys en l'ofici, porta temps sumit en una crisi creativa. Des que va morir de forma imprevista la seva dona, que era tot per a ell, pràcticament no ha pogut tornar a pintar.
Estem a l'estiu i tardor de 1975. La filla major de tots dos està a la presó per les seves activitats polítiques, i és en aquestes dates quan sorgeixen els primers símptomes de la malaltia de la seva mare que la filla viurà des de dins de la presó. És un altre record permanent en la vida del seu pare, que també ara reviu.
Aquesta obra teatral és el relat d'una història d'amor en camí desenfrenat cap a la mort, que ens situa en aquella Espanya amb trets inequívocs, que ens parla de la felicitat i de la seva pèrdua, i que arriba a la intimitat de cada ésser humà, i a la seva emoció, pel camí recte i simple de la veritat.
REPARTIMENT: José Sacristán
Veu de Ana: Mercedes Sampietro
EQUIP ARTÍSTIC I TÈCNIC
Autor: Miguel Delibes
Adaptació: José Sámano, José Sacristán e Inés Camiña
Direcció: José Sámano
Ajudant de direcció: Inés Camiña
So: Mariano García
Disseny de vestuari: Almudena Rodríguez Huerta
Disseny d'escenografía: Arturo Martín Burgos
Disseny d'il·luminació: Manuel Fuster
Directora de producció: Nur Levi
Coordinació de producció: Marta Fonseca
Direcció tècnica: Tatiana Reverto
Gerent Companyia / Sastressa: Nerea Berdonces
Tècnic d'il·luminació/so: Tatiana Reverto i Jesús Díaz Cortés
Maquinista / Regidor: Pepe González
Ajudants de Producció: Pilar López "Pipi" i Mélanie Pindado
Secretaria de Producció: Eli Zapata
Produït i dirigit per : José Sámano
Una producció de: Sabre Producciones, Pentación Espectáculos, TalyCual i AGM
Caps tècnics del teatre: Sergi Lobaco y Raúl Martínez
Premsa: Albert López y Judit Hernández
Marqueting i comunicació: Publispec
Disseny gràfic: Santi&Kco
Address:

C Hospital, 51

:

Ciutat Vella

Neighborhood:

el Raval

City:

Barcelona
Where
When

From 06/10/2021 to 07/11/2021
Website
Web venda d'entrades:
You may also be interested in...