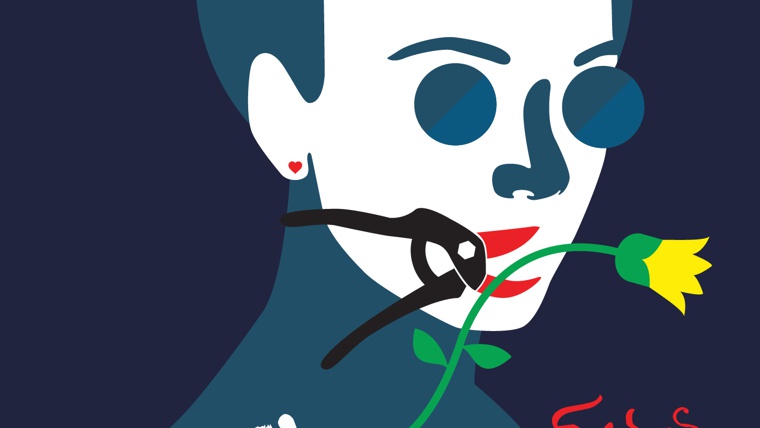 Shows. Dagoll Dagom, La Brutal and T de Teatre adapt Empar Moliner's stories for the stage.
Whenever you write stories you image your characters' faces and their dialogue resonates in your mind. Everyone tells me that my stories always say a lot about what the tones of their characters' voices are like. Sometimes they pay me a lovely compliment: "These stories are very theatrical".
But I couldn't imagine that I'd have that, that theatricality. And there you are, they give me that. The theatre. Some gals I admire, a company I admire, a director I admire, decide that all these characters (not a bit charismatic, not at all pleasant and maybe a little comical) will go up on stage. I'll "see" and "hear" them.
A writer also has influences from other writers, obviously, but from many other things in life too. From a painting they've seen, from someone they've loved, from a wine they've drunk, from a song they've heard. I can say that Dagoll Dagom, T de Teatre and La Brutal have had an influence on my life: I've come out unhinged (that's the word) from some of the plays they've made. I've come out singing and wanting to hug strangers.
We've chosen the most entertaining stories (some are also a bit sad, yes, that couldn't be avoided). I hope my obsessions are yours too. I'd like you to be in the mood for singing and hugging strangers (including myself) after you've seen the play (those of us not in the trade say "play" and not "show").
ARTISTS
Author: Empar Moliner 
Original music: Andreu Gallén
Performers: Mamen Duch, Mercè Martínez, Marta Pérez, Carme Pla, Àgata Roca / Rosa Gàmiz, Marc Rodríguez and Ernest Villegas
Director: David Selvas
Musical director: Andreu Gallén
Stage design: Alejandro Andújar
Costumes: Maria Armengol
Lighting: Jaume Ventura
Sound: Roger Ábalos
Choreography: Pere Faura
Video: Mar Orfila
Characterisation: Clàudia Abbad
Assistant director:  Daniel J.Meyer
Executive producers: Anna Rosa Cisquella and Daniel López-Orós
Schedule
Days
Hours
Preus
Observation

Dimecres i dijous i
11 octubre excepte 13 octubre i 14 octubre

a les 20.00 h

Entrada general de: 11.95 a 30.95 €

(+ despeses de gestió)

Durada: 1 hora 45 minuts.

Divendres

a les 20.30 h

Dissabte

a les 17.00 h i
a les 20.00 h

Diumenge i
12 octubre

a les 18.30 h
Sempre que escrius històries t'imagines cares de personatges i al teu cap hi ressonen els diàlegs. Tothom em diu que sempre, en els contes, hi explico molt com són els tons de veu dels personatges. Algun cop m'han fet un elogi bonic: "Aquests contes són molt teatrals".
Però no em podia imaginar que la tindria, la teatralitat. I va i em regalen això. El teatre. Unes ties que admiro, una companyia que admiro, un director que admiro decideixen que tots aquests personatges (no gens carismàtics, no gens agraciats i potser una mica còmics) pujaran a l'escenari. Jo els "veuré" i els "sentiré".
Un escriptor sempre té influències d'altres escriptors, esclar, però també de moltes altres coses de la vida. D'un quadre que ha vist, d'algú a qui ha estimat, d'un vi que s'ha begut, d'una cançó que ha sentit. Puc dir que Dagoll Dagom, T de Teatre i La Brutal han influït en la meva vida: he sortit trasbalsada (aquesta és la paraula) d'algunes de les obres que han fet. He sortit cantant i volent abraçar desconeguts.
Hem triat els contes més divertits (també n'hi ha algún de tristot, sí, no s'ha pogut evitar). Espero que les meves obsessions siguin també les vostres. M'agradaria que sortint de veure l'obra (els que no som del ram sempre diem "obra" i no "espectacle") també volguéssiu cantar i abraçar desconeguts (entre els que m'incloc).
FITXA ARTÍSTICA
Autora: Empar Moliner
Música original: Andreu Gallén
Intèrprets: Mamen Duch, Mercè Martínez, Marta Pérez, Carme Pla, Àgata Roca / Rosa Gàmiz, Marc Rodríguez i Ernest Villegas
Direcció: David Selvas
Direcció musical: Andreu Gallén
Escenografia: Alejandro Andújar
Vestuari: Maria Armengol
Il·luminació: Jaume Ventura
So: Roger Ábalos
Coreografia: Pere Faura
Vídeo: Mar Orfila
Caracterització: Clàudia Abbad
Ajudant de direcció: Daniel J.Meyer
Producció executiva: Anna Rosa Cisquella i Daniel López-Orós
Address:

la Rambla, 115

:

Ciutat Vella

Neighborhood:

el Raval

City:

Barcelona
Where
When

From 09/10/2021 to 21/11/2021
Website
Web venda d'entrades:
You may also be interested in...