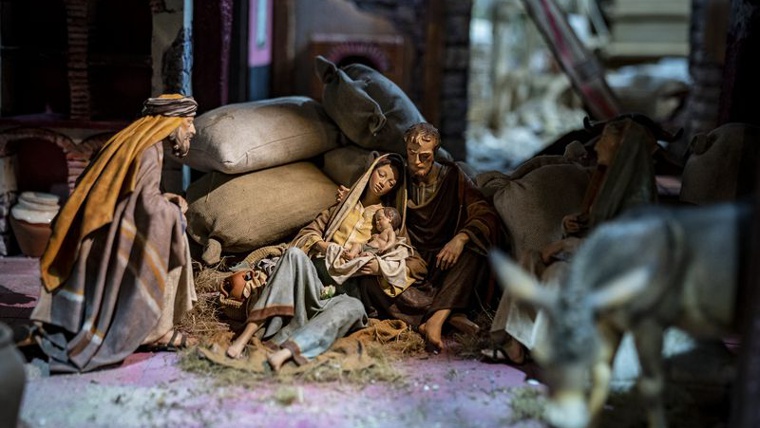 Traditions. Visit Barcelona's most traditional nativity scene at the Museu Marès!
The Barcelona Nativity Scene Makers Association will once again surprise us with the most traditional nativity scene in the city, this year set in an idyllic valley in the Catalan Pyrenees and Pre-Pyrenees.
The birth of Christ, the annunciation to the shepherds and the arrival of the Three Wise Men are some of the many scenes that will be represented in a setting that's full of fascinating detail: the landscapes, villages, flora and fauna, and the customs of the Pyrenees.
The custom of representing the birth of Jesus during the Christmas season is a tradition that is deeply rooted in Catalonia. The traditional nativity scene is made from plant-based materials such as moss, cork and butcher's broom. And of course it features the baby Jesus in a cove or stable, which serves as the centre piece of the scene, and the annunciation and the Three Wise Men, that complete the story of the Christmas Mystery.
The nativity scene might also include other scenes and characters: the washerwoman, the woman spinning wool, a fisherman, shepherds bearing gifts for the baby Jesus, and so on. Some of them are anachronistic, such as the chaplain with an umbrella, the hunter, etc. and of the whole range of characters, one stands out for its singularity: the caganer, or the 'pooper'.
So if you're in Barcelona over the Christmas period, come along and visit the traditional nativity scene!
Schedule
Days
Hours
Preus
Observation

Dimarts, dimecres, dijous, divendres i dissabte

de 10.00 h a 19.00 h

Entrada Gratuïta

Activitat de lliure accés.

No cal reserva prèvia.

Diumenge i festius excepte 25 desembre, 26 desembre i 1 gener

d'11.00 h a 20.00 h

Entrada Gratuïta

Activitat de lliure accés.

No cal reserva prèvia.
Others
Occur on:

Organised by:

Organised by:
A symbiosis between Roman Barcelona and today's Barcelona is this year's theme.
The Nativity scenes will be represented among Barcelona's Roman ruins and pay homage to Luci Minici Natal Quadroni, Barcelona's first Olympic champion. This traditional Nativity scene, a creation from the Barcelona Nativity Scene Makers' Association, features a parallel light installation inspired by Rome's Vestal Virgin temple and designed by students from the Escola Elisava under Maria Güell's supervision.
Address:

Plaça de Sant Iu, 5

:

Ciutat Vella

Neighborhood:

el Barri Gòtic

City:

Barcelona
Where
When

From 26/11/2022 to 08/01/2023
Website
You may also be interested in...