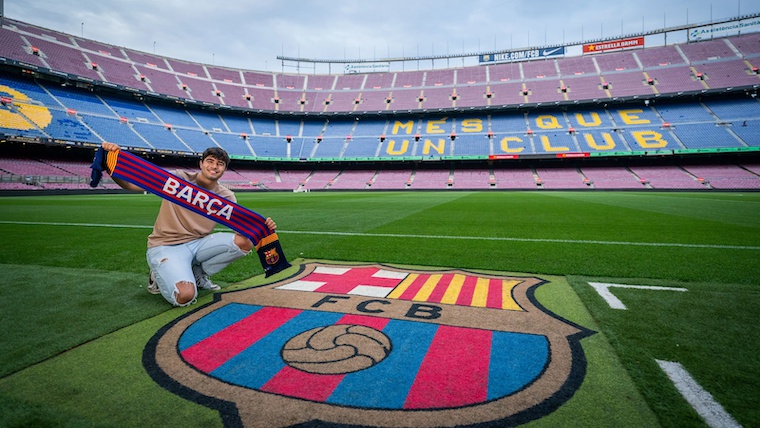 Guided tour. With this exclusive tour, you'll feel as though you were the newest BC Barcelona adquisition.
The Players experience tour allows you a glimpse into the off limits areas of the Barça first team, including the dressing rooms.
You'll have the opportunity to head down to the pitch for unique photos—a truly unforgettable experience for any Barça fan.
When you stop by the Spotify Camp Nou shop, you can customise your new shirt for free.
Last but not least, complete your experience with a visit to the Museum.
What's in This Pack?
Tour of the stars
Official FC Barcelona Guide
VIP access and tour of off-limits areas
Visit of the Barça dressing rooms - Exclusive!
Go down on to the pitch - Exclusive!
Experience in the press room
Professional photos of your visit
Free shirt customisation.
Schedule
Days
Hours
Preus

Podeu consultar les dates disponibles al següent enllaç

Podeu consultar els horaris disponibles al següent enllaç

Entrada general: 139 €

Infantil (4 - 10 anys): 92 €

Majors de 70 anys: 92 €

Menors de 3 anys (0 - 3 anys): 11 €

Residents a Catalunya: 73 €
Amb aquesta gira exclusiva, sentireu com si fóssiu la nova adquisició del FC Barcelona. Feu la reserva tan aviat com pugueu, aquestes entrades s'exhaureixen de seguida.
Igual que si fossis un nou fitxatge, us acompanyarem pels espais privats dels jugadors del primer equip, entre ells, al seu vestidor! Baixareu al terreny de joc i us podreu fer fotografies úniques, inèdites per a qualsevol fan del Barça. Al passar per la botiga del Spotify Camp Nou, tindreu l'avantatge de personalitzar gratis la vostra nova samarreta. I si voleu encara més, al final podeu fer la visita normal i visitar el Museu.
Què inclou aquest pack?
Tour de les estrelles
Guia oficial del FC Barcelona
Accés VIP i recorregut per les zones privades
Visita del vestidor del Barça - Exclusiu!
Baixar al terreny de joc - Exclusiu!
Experiència a la sala de premsa
Fotos professionals de la visita
Personalització de samarreta gratuïta
Address:

C Aristides Maillol, 12*18

:

Les Corts

Neighborhood:

la Maternitat i Sant Ramon

City:

Barcelona
When

From 22/02/2023 to 25/05/2023
Website
You may also be interested in...