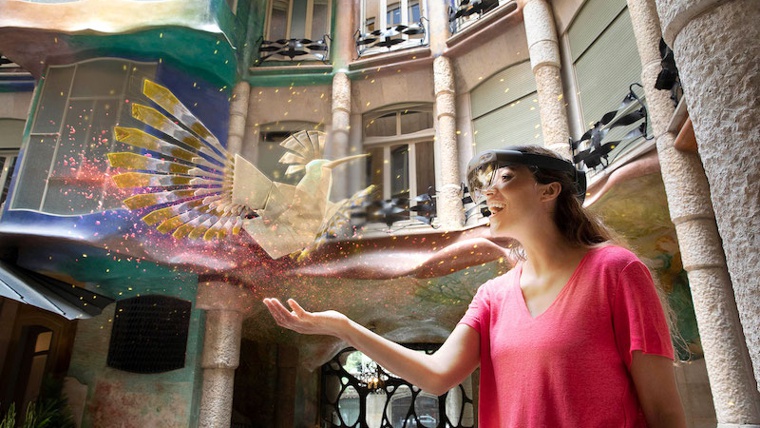 The world of Gaudí. Discover a hitherto hidden area of La Pedrera, and enjoy a unique mixed reality experience.
La Pedrera Magical Vision uses the most innovative technology, with mixed reality glasses that allow you to see your actual surroundings combined with virtual elements.
You'll be able to step into a new space that until now had never been open to the public, the mezzanine floor at La Pedrera, and take a magical tour in which you yourself can take part and interact with the elements that appear. 
Immerse yourself in a multi-sensory environment and discover stories, exclusive visual materials and the best-kept secrets of Gaudí's iconic building. An innovative experience full of surprises.
Schedule
Days
Hours
Preus
Observation

Cada dia i festius

de 09.00 h a 17.00 h

Entrada general: 15 €

Nens i nenes (10-12 anys): 10 €




Preu a taquilla: + 3 € per persona

Promoció 2x1

Per a compres del 16 de gener al 22 de gener de 2023

Només amb la tarifa general: 7.50 €
Others
Occur on:

Tickets sold at:
ine a descobrir La Pedrera Virtual Experience i gaudiràs d'una experiència interactiva com mai havies vist.
Una proposta que incorpora la tecnologia més innovadora amb unes ulleres que combinen la visió de l'entorn real amb hologrames.
Podràs entrar a un espai inèdit, l'entresol de La Pedrera, que només pots visitar fent aquesta visita. Allà faràs un recorregut màgic en què tu també podràs participar i interactuar amb els elements que hi apareixen.
T'endinsaràs dins un entorn multi sensorial i descobriràs durant la visita històries, materials visuals exclusius, i els secrets més ben guardats de La Pedrera. Durant aquest viatge, travessaràs diverses èpoques i ambients, i tindràs la sensació de formar part de la història de l'edifici.
Gaudeix d'una narrativa sonora que se suma a la pròpia arquitectura de l'edifici modernista d'Antoni Gaudí. Una proposta sorprenent que no et pots perdre.
Edat recomanada: a partir de 10 anys
Address:

Carrer de Provença, 261*265

:

Eixample

Neighborhood:

la Dreta de l'Eixample

City:

Barcelona
When

Permanent event
Website
Web:

Web venda d'entrades:
You may also be interested in...