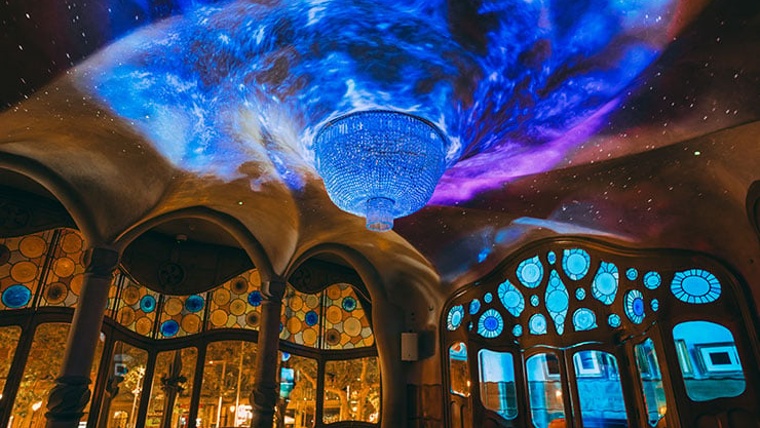 Night visit. Take a journey into the history of the Casa Batlló and its inhabitants, with a unique night tour featuring new projections and special lighting.
A Winter Night offers an intimate tour of the Casa Batlló. Discover the most iconic spaces in the building through people that lived there, in a unique and moving set.
The actor and director Mario Gas provides the voice for Joan Carles, great grandson of the Batlló family. A perfect guide to delve us first hand into life in the house.
The experience features an original soundtrack by the composer Jordi Longán, with the special collaboration of Sheila Blanco in the main song about Fermina, the legendary maid at the Casa Batlló.
Schedule
Days
Hours
Preus
Observation

Cada dia

de 18.30 h a 20.45 h

Entrada general: 39 €

(Promoció 2x1 Residents Espanya)




Infants fins a 12 anys: Gratuït

Durada: 1h.




Aforament limitat




Idiomes àudio: Català, castellà, anglès, francès, italià, coreà i xinès.
Viatja al passat de la Casa i dels seus habitants, amb la veu de Mario Gas, noves projeccions i il·luminacions especials.
"Una Nit d'Hivern" us proposa una visita íntima a Casa Batlló. Descobreix els espais més icònics de la Casa a través de les persones que hi van viure, en una escenografia única que t'emocionarà.
L'actor i director Mario Gas posa veu a Joan Carles, besnét dels senyors Batlló. Un guia perfecte per submergir-nos a la vida dins de la Casa en primera persona.
Banda sonora original a càrrec del compositor Jordi Longán, amb la col·laboració especial de Sheila Blanco a la cançó principal sobre Fermina, la llegendària criada de Casa Batlló.
A partir del 17 de novembre, coincidint amb la inauguració d'"Una Nit d'Hivern" i durant tot el Nadal, la façana de Casa Batlló s'il·luminarà per a l'ocasió.
Address:

Pg Gràcia, 43

:

Eixample

Neighborhood:

la Dreta de l'Eixample

City:

Barcelona
Where
When

From 17/11/2023 to 18/02/2024
Website
Web venda d'entrades:
You may also be interested in...