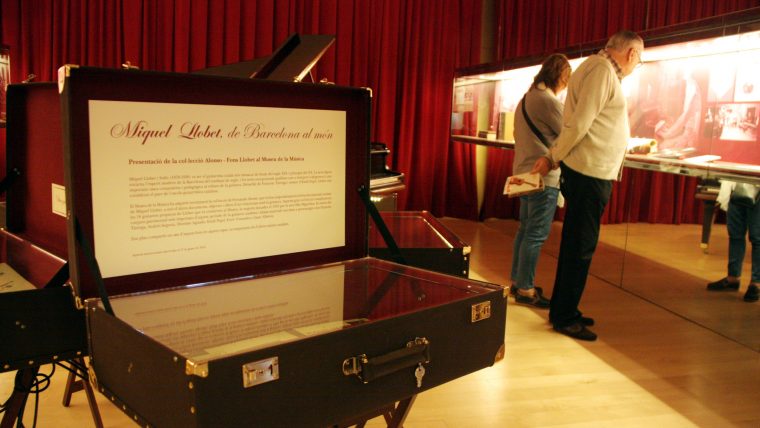 Rutes. The visit looks at the museum's collection of musical instruments with the help of a guide.
Every Sunday the Museu de la Música is offering a free guided tour at 11 am, included in the admission price of the museum.
Visitors will become familiar with all the museum's secrets, getting inside a giant guitar, vibrating with rock and discovering highly unusual instruments belonging to the permanent collection. The experimental visit will be rounded off in the interactive room, with a chance to play musical instruments. Throughout August, and up to and including 18 September, the guided tour on Sundays will not be available.
Schedule
Days
Hours
Preus
Observation

11 abril,
25 abril,
16 maig,
30 maig,
20 juny i
4 juliol

a les 11:00 h

Entrada general: 6 €




Entrada reduïda: 4.5 €

· Persones de 16 a 29 anys

· Carnet Jove

· Persones a l'atur

· Majors de 65 anys

· Tarjeta rosa reduïda

· Famílies nombroses i monoparentals

· Abonats OBC general

· Carnet de biblioteques

· Grups d'adults (entre 10 i 25 persones)




Entrada gratuïta:

· Menors de 16 anys

. Registrats al programa Gaudir+BCN

· Grups d'estudiants acompanyats

pels professors

· Professors acreditats

· Targeta rosa gratuïta

· Guies turístics

· Membres ICOM

· Membres Associació de

Museòlegs de Catalunya

· Passi metropolità

d'acompanyant

· Diumenges de 15 a 20 h

· 1r diumenge de mes

· 12 de febrer (Santa Eulàlia)

· 20 de maig (La Nit dels Museus: gratuït de 19 a 1 h)

· 18 de maig (Dia Internacional dels Museus)

· 24 de setembre (la Mercè)

· 22 de novembre (Santa Cecília)




Dijous a partir de les 18 h:

2x1 només a les taquilles del Museu.

Cal reserva prèvia

El preu correspon
a l'entrada al Museu.

Edat: a partir de 6 anys.

Durada: 1 hora.

Durant el mes d'agost,
no es durà a terme
aquesta activitat.
Others
Occur on:

Organised by:
Us acompanyarem en un recorregut comentat per l'exposició permanent per conèixer de ben a prop el que els instruments de la col·lecció ens volen dir. Compartirem i desvetllarem la curiositat de les seves formes, les músiques que els han fet sonar, els que encara avui sonen, els noms de qui els ha construït, els ha posseït com a objectes valuosos o els ha tocat de manera virtuosa i, gaudint-los com ho farem nosaltres en descobrir-los. El contingut de les visites podrà incloure el de les exposicions temporals en curs i també variar lleugerament els diumenges que hi hagi concert de La Música del Museu a les 12h per adaptar-se a la proposta musical d'aquell dia.
Visita adreçada a públic general.
Address:

Carrer de Lepant, 150

:

Eixample

Neighborhood:

el Fort Pienc

City:

Barcelona
When

Permanent event
Website
E-mail
E-mail inscripcions:

reservesmuseu@auditori.cat
You may also be interested in...