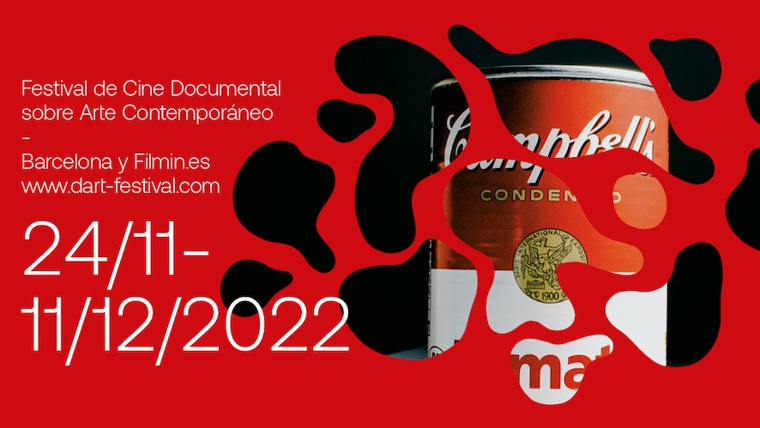 Art documentaries. The festival delves into the biographies and creations of artists who are essential for understanding today's art.
Barcelona is hosting the sixth edition of the Contemporary Art Documentary Film Festival Dart 2022 from 24 to 30 November.
Dart is a meeting point for film, contemporary art and the broader public in Spain and Latin America, through documentaries on photography, art curation, painting, performance art, architecture and artistic movements. All this with a special focus on artists, their creative processes and the stories behind their work.
This year's festival features 23 documentaries, 12 of them never before screened in Spain, in a careful selection combining new works for the face-to-face screenings in Barcelona with a selection of notable works from other editions which can be seen online on the Filmin platform until December 11.
The festival includes a diverse range of perspectives, focusing on: biopics, visual art projects produced for a specific place or time, key exhibitions or events in the history of contemporary art, from the emergence of the avant-garde at the start of the 20th century to the present day.
In parallel, the programme includes educational and outreach activities, with talks, art-gallery tours, exhibitions, Q&A and discussions.
Check out the full programme on the festival website.
Others
Occur on:

Occur on:

Occur on:
Dart és el punt de trobada entre el cinema i l'art a Espanya i América Llatina. És el primer festival de cinema documental dedicat a l'art contemporani el principal objectiu del qual és entrellaçar la cultura i el coneixement amb el gran públic, i ho fa a través de documentals sobre fotografia, comissariat d'art, pintura, performance, arquitectura, moviments artístics i, en general, sobre art contemporani, prestant especial atenció als artistes, els seus processos de creació i les històries que hi ha darrere dels seus treballs.
Els enfocaments són molt diversos: biopics, projectes d'arts visuals produïts per a un lloc específic o un temps determinat, exposicions o esdeveniments rellevants de la història de l'art contemporani, des de l'eclosió avantguardista de principis del segle XX fins a l'actualitat. De manera paral·lela, la programació inclou activitats educatives i divulgatives, com a xerrades, visites a galeries d'art, exposicions, Q&A i debats.
Dart presencial:
Del 24 al 30 de novembre es celebra a la Sala Phenomena, Cinemes Girona i MACBA.
Dart online a Filmin:
Del 24 a l'11 de desembre al canal oficial de Dart Festival.
Consulteu la programació aquí: https://dart-festival.com/ca/programacion/
Address:

C Sant Antoni Maria Claret, 168

:

Eixample

Neighborhood:

la Sagrada Família

City:

Barcelona
When

From 24/11/2022 to 11/12/2022
Website
Web venda d'entrades:

Web:
You may also be interested in...