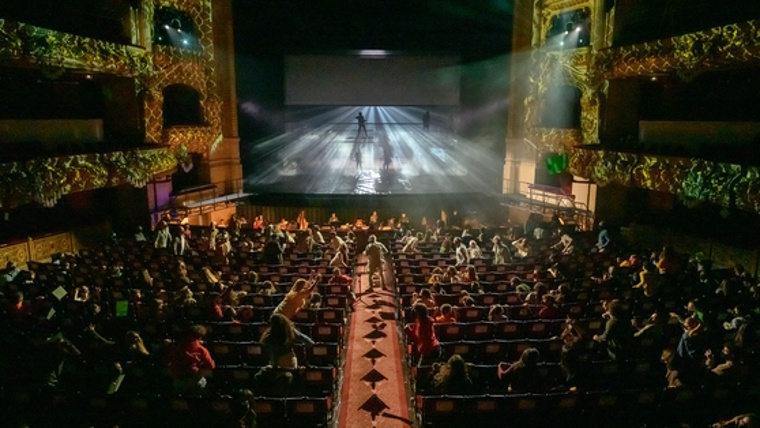 Schedule
Days
Hours
Preus
Observation

1 juny i
6 juny

a les 19.00 h

Entrada general: 15 €

Informació sobre abonaments i
descomptes a la web i taquilles
del teatre
El mite clàssic de Teseu i el minotaure des d'una mirada actual
Òpera que reinterpreta un mite clàssic —Teseu i el minotaure— des d'una mirada actual que pretén oferir als joves, a banda d'una experiència artística, una reflexió sobre realitats socials ben properes. Un viatge iniciàtic en la cultura i el pensament.
El monstre al laberint està concebut com una creació col·lectiva en què centenars de joves de diversos instituts i centres educatius comparteixen escenari amb professionals de la música i les arts escèniques. Un projecte participatiu que ens brinda l'oportunitat d'apropar-nos a l'òpera, ja sigui venint de públic o pujant a l'escenari.
Recomanat a a partir de 12 anys
Fitxa artística
Música: Jonathan Dove
Llibret: Alasdair Middleton
Traducció al català: Marc Rosich
Direcció musical: Manel Valdivieso
Direcció i escenografia: Paco Azorín
Director de moviment: Carlos Martos de la Vega
Assistent de moviment: Eulàlia Bergadà
Videocreació: Pedro Chamizo
Figurinista: Anna Güell
Ajudant de direcció: Anna Llopart
Ajudant d'escenografia: Núria Cardoner
Ajudant de vestuari: Alessandro Arcangeli
Producció: Gran Teatre del Liceu
Cors de joves de diferents instituts i centres educatius
Direcció dels Cors: Buia Reixach i Feixes
Directors assistents dels cors: Júlia Sesé i Daniel Mestre
Orquestra del Conservatori del Liceu
Director: Manel Valdivieso
Pianistes: Pau Casan, Anna Fernández, Daniel Tarrida i Miquel Villalba
Repartiment
MareCarol Garcia
TeseuRoger Padullés
DèdalElías Arranz
MinosMarc Pujol
ActorsJoshua Climent, Damian Fiore, Anna Mestre, Roberta Ruggiero, Omar Tubau i Maria de Vicente
Address:

C la Rambla, 51*59

:

Ciutat Vella

Neighborhood:

el Raval

City:

Barcelona
When

From 01/06/2023 to 06/06/2023
Website
Web venda d'entrades:
You may also be interested in...