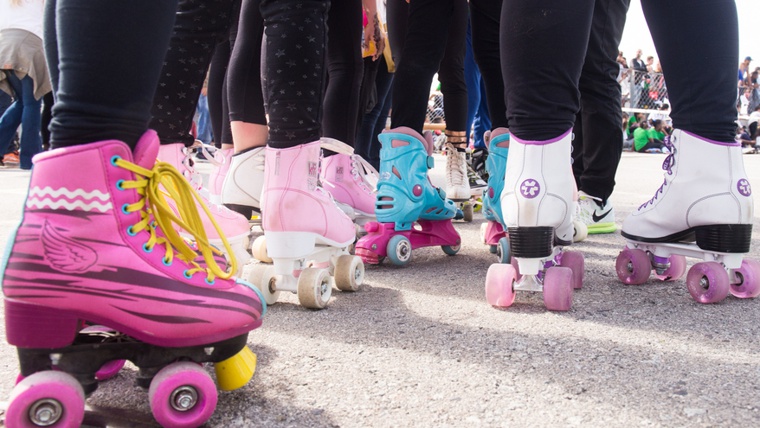 Roller sports. Join in with the night-time routes on Fridays to discover the city on wheels.
For roller-skating enthusiasts there's no better way to discover the city than on wheels. The Barcelona Roller-skaters' Association organises free routes around the city on Friday nights, all year round.
The meeting point for skaters is in front of the Centre de la Vila, at Carrer de Salvador Espriu, 61, regardless of which route is adopted each week.
These are official routes led by volunteers wearing reflective waistcoats, who help ensure participants follow the route correctly. A different way to get around the city and enjoy skating!
Full information can be found on the website for the Barcelona Roller-skaters' Association.
Schedule
| | Days | Hours | Preus | |
| --- | --- | --- | --- | --- |
| | divendres | a les 22.00 h | Entrada Gratuïta | |
El punt de trobada on es concentren els patinadors abans de la ruta es troba davant del Centre de la Vila, al carrer Salvador Espriu, 61, de la Vila Olímpica, independentment de la ruta que toqui aquella setmana.
Són rutes oficials amb el permís de la guàrdia urbana i l'Ajuntament guiades per "stoppers", voluntaris vestits amb armilles reflectants que col·laboren en el correcte desenvolupament de la ruta.
És necessari poder mantenir un ritme mínim i saber girar i frenar correctament per a poder seguir les rutes amb seguretat.
Inclouen una assegurança de responsabilitat civil a tercers per als socis, sempre que es respectin les normes establertes.
La longitud varia entre 14 i 20 km, i el nivel de dificultat és mig.La duració de la ruta és d'unes dues hores a ritme mig, i aproximadament a meitat de la ruta es fa una aturada d'uns cinc minuts per descansar.
LListat de rutes: BonanovaBornCamp NouCarles III / SantsCarles IIICasc AnticFrancesc MaciàGràciaLessepsNou BarrisPrim ClàssicaPrim amb GràciaRuta Prim RavalSant Andreu
Punt de trobada: davant del Centre de la Vila (Vila Olímpica)
Address:

C Salvador Espriu, 61

:

Sant Martí

Neighborhood:

la Vila Olímpica del Poblenou

City:

Barcelona
Where

Punt de trobada: davant del Centre de la Vila (Vila Olímpica)
When

Permanent event
Website
You may also be interested in...