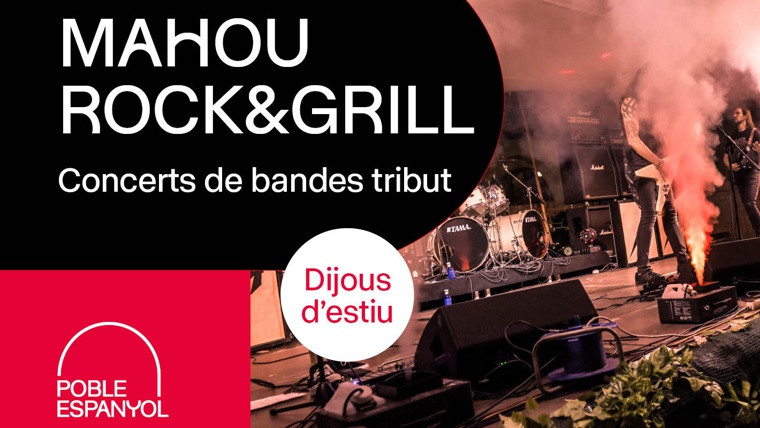 Music. A cycle of concerts featuring the best tribute rock bands, playing every Thursday this summer.
Nine outdoor concerts and in a single environment, with 19 rock bands performing on Thursday nights over the summer.
You'll be treated to powerful live performances from most iconic rock groups' tribute bands: from AC/DC to Ramones, not to mention Motörhead, Kiss, Red Hot Chili Peppers, Metallica, Guns N'Roses, Barricada, Iron Maiden, David Bowie and Quein, among many others.
Mahou Rock&Grill is certainly the Barcelona rock festival par excellence and is coming back to Poble Espanyol to offer you live performances of your favourite music.
The Village space, a complete experience
And there'll be no shortage of good beer and delicious char-grilled ribs and hamburgers to accompany the good music with!
The Marquis and Picnic spaces are to become the Village for the first time, an extensive outdoor space especially thought up to make your experience in Poble Espanyol all the more pleasant and long lasting.
You'll be able to have a glass of wine before and after each concert, enjoy local food offerings and have a good time with ambient music in a venue you'll love.
You can check out the programme here.
Schedule
Days
Hours
Preus
Observation

Dijous

a les 20.00 h i
a les 21.45 h

Entrada general de: 12 a 16 €
Others
Occur on:

Tickets sold at:
Nou concerts a l'aire lliure i en un entorn únic, on 19 bandes posaran el ritme més rocker a les nits dels dijous d'aquest estiu.
Gaudiràs dels potents directes que oferiran els tributs dels grups de rock més emblemàtics: d'AC/DC a Ramones, passant per Motörhead, Kiss, Red Hot Chili Peppers, Metallica, Guns N'Roses, Barricada, Iron Maiden, David Bowie o Quein, entre molts d'altres.
Mahou Rock&Grill és sens dubte el festival de rock per excel·lència de Barcelona i torna al Poble Espanyol per oferir-te la música que més t'agrada, en directe. T'ho perdràs?
Programació
30 de juny:
20h: Californicators
21:45h: Hate Against The Machine
7 de juliol:
20h: Crusaders
21:45 h: Slavers
14 de juliol:
20h: Baronesas y los Vándalos
21:45h: Barrena
21 de juliol:
20h: Attitude for Destruction BCN
21:45h: Seek m all
28 de juliol:
20h: Casino Montreux
21:45h: Whole Lotta Band
4 d'agost:
20h: Comando
21:45h: Motörhits
11 d'agost:
20h: The Rippers
21:45h: The Wires
18 d'agost:
20h: Absolute Beginers
21:45h: Scaramouche
25 d'agost:
20h: Mötley Qüeens
21:45h: Kiss of Death
Address:

Avinguda de Francesc Ferrer i Guàrdia, 13

:

Sants-Montjuïc

Neighborhood:

el Poble-sec

City:

Barcelona
When

From 30/06/2022 to 25/08/2022
Website
Web venda d'entrades:
You may also be interested in...