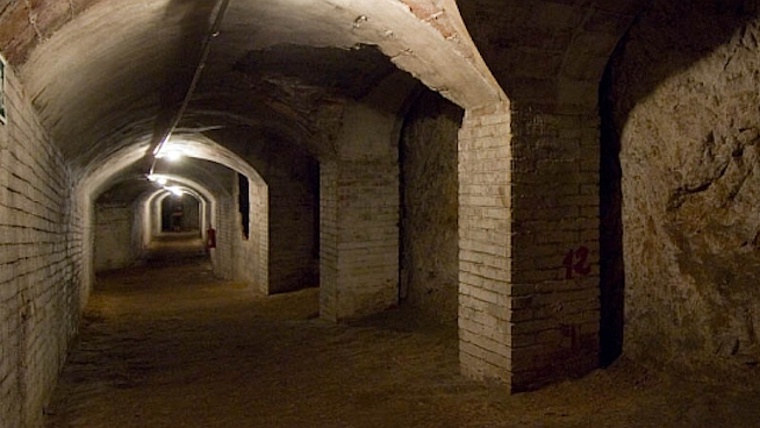 Culture. A heritage site which is crucial for understanding Barcelona's passive defence plans during the Spanish Civil War.
The response of the population, municipal institutions and heads of the Republic armed forces to the aerial terror that ravaged the city with nearly two hundred bombings.
Shelter 307 was dug by local residents in Poble-Sec with the aim of protecting the population from the indiscriminate bombardments that Barcelona suffered during the Spanish Civil War. It has three entrances on Carrer Nou de la Rambla and has approximately 400 metres of tunnels, with a height of 2.10 metres and a width ranging between 1.5 and 2 metres.
At the moment, no commentary is given inside, but a brief commentary on the shelter is given before visitors enter the site. Visits are free of charge for all members of the public while guided visits are not available.
Schedule
Days
Hours
Preus
Observation

a les 10.30 h i
a les 11.00 h

Entrada Gratuïta

Cal reserva prèvia.

a les 11.30 h i
a les 12.00 h

a les 12.30 h i
a les 13.00 h

Entrada general de: 75 a 127 €

Només per a grups guiats

(15 persones) amb reserva

prèvia 
Others
Espai patrimonial decisiu per entendre els plans de defensa passiva de Barcelona durant la Guerra Civil. La resposta de la població, les institucions municipals i els caps militars de l'exèrcit republicà per fer front al terror aeri que va atemorir la ciutat amb gairebé dos-cents bombardeigs
De moment no es fa explicació a l'interior del refugi. Es fa una breu explicació abans de l'accés. De moment la visita es gratuïta per tots els públics mentre no pugui ser guiada.
Address:

C Nou de la Rambla, 175

:

Sants-Montjuïc

Neighborhood:

el Poble-sec

City:

Barcelona
When

Permanent event
E-mail
E-mail:

reservesmuhba@bcn.cat
You may also be interested in...