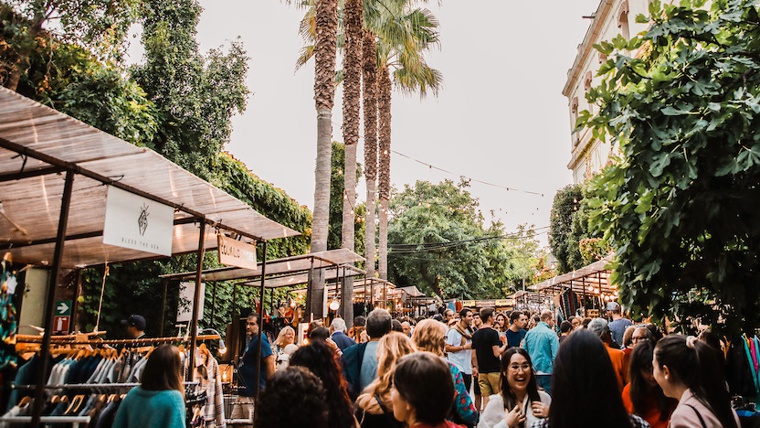 Fashion and design. Here you'll find hand-made products, original designs and accessories. There's also a dedicated space for gastronomy in this market.
Fashion, original designs, music and gastronomy meet at the monthly Palo Market Fest. The former Poblenou factory is the ideal space for enjoying something just that bit different.
Creativity, craftsmanship and exclusivity are the common link between the participating brands, which are small local businesses. Based on the concept of a street market, there's also a dedicated space for gastronomy.
Next editions:
October 7 and 8
November 4 and 5
November 18 and 19
December 2 and 3
Schedule
Days
Hours
Preus
Observation

7 gener,
8 gener,
4 febrer,
5 febrer,
4 març,
5 març,
1 abril,
2 abril,
6 maig,
7 maig,
20 maig,
21 maig,
3 juny,
4 juny,
1 juliol,
2 juliol,
9 setembre,
10 setembre,
7 octubre,
8 octubre,
4 novembre,
5 novembre,
18 novembre,
19 novembre,
2 desembre i
3 desembre

de 12.00 h a 17.00 h i
de 17.30 h a 22.00 h

Entrada general: 5.5 €




Entrada gratuïta:

Menors de 12 anys
Persones amb mobilitat reduïda o discapacitat i els seus acompanyants (cal

enviarun mail a 

entradas@palomarketfest.com

 acreditant la minusvàlia)

Dos torns de visita.

(es procedirà al desallotjament del recinte per donar pas a el segon torn)




L'aforament és limitat




Només es vendran entrades a taquilla si l'aforament ho permet.
És un nou mercat per a Barcelona, carrer i sofisticat, basat en el concepte del street market popular, però desenvolupat en un format a la mesura d'una ciutat que s'ha destacat en tot el món per la seva creativitat. Una illa urbana amb un paisatge espectacular on es barreja talent i sensibilitat per gaudir amb els cinc sentits.
Al carrer Pellaires, 30
Address:

C Pellaires, 30

:

Sant Martí

Neighborhood:

Diagonal Mar i el Front Marítim del Poblenou

City:

Barcelona
Where

Al carrer Pellaires, 30
When

From 07/01/2023 to 03/12/2023
Website
Web:

Web venda d'entrades:
You may also be interested in...