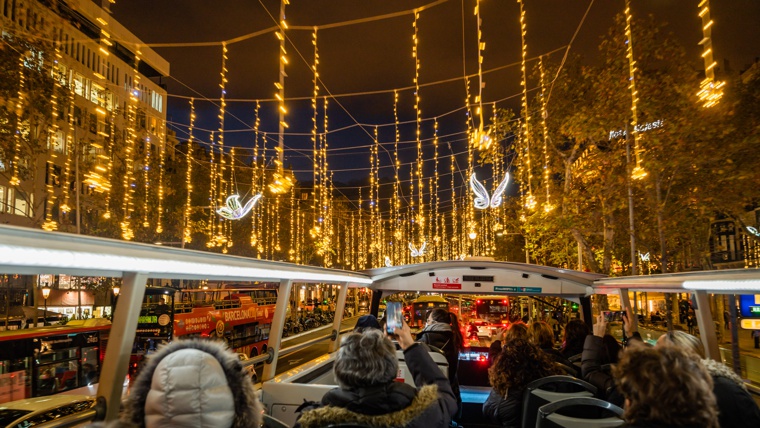 Lights. Soak up the festive atmosphere of the city's streets and monuments on this special tour.
Celebrate Christmas with a night tour on the top deck of a bus that offers panoramic views, with live commentary in Catalan, Spanish and English. An experience that lasts for one and a half hours, and is truly unique, allowing you to enjoy all the glitter and sparkle of the Christmas lights on the most emblematic streets, avenues and buildings of the city. The tour starts and finishes in Plaça de Catalunya.
On the Barcelona Christmas Tour you'll have privileged views of Passeig de Gràcia, l'Arc de Triomf, Casa Batlló, the Sagrada Família and its Christmas Market, the Torre Glòries, Sant Antoni market and so many more interesting places!
As well as soaking up the festive atmosphere, you'll be able to discover the history of the most popular Christmas traditions.
Schedule
Days
Hours
Preus
Observation

Tots el dies excepte 24 desembre, 25 desembre i 31 desembre

a les 18.00 h i
a les 20.00 h

Entrada general: 15 €

Nens i nenes de 4 a 12 anys: 10 €

Menors de 4 anys: gratuït

(cal reservar plaça)

Durada aproximada: 1 h i 30 min.
Presentació al punt de trobada: 20 minuts abans de la sortida.

24 desembre

a les 18.00 h
Others
Organised by:

Organised by:

Organised by:
Puja al Barcelona Christmas Tour i descobreix la il·luminació i la màgia del Nadal de Barcelona en un recorregut fantàstic inoblidable. Passarem pels grans carrers, avingudes i edificis més emblemàtics especialment decorats per aquestes festes, com el passeig de Gràcia, la Sagrada Família, l'Arc de Triomf o la Casa Batlló, entre d'altres.
A més a més, podràs conèixer les tradicions nadalenques típiques d'aquestes dates explicades pels nostres guies a bord de l'autobús. Tria l'idioma de la teva ruta en català, castellà o anglès.
Reserva ja la teva plaça i viu Barcelona amb un passeig inoblidable gaudint de les millors perspectives de la ciutat!
Sortida i final plaça Catalunya
Address:

Plaça de Catalunya, 1

:

Eixample

Neighborhood:

la Dreta de l'Eixample

City:

Barcelona
Where

Sortida i final plaça Catalunya
When

From 25/11/2022 to 30/12/2022
Website
Web venda d'entrades:

Web venda d'entrades:

Web venda d'entrades:

Web venda d'entrades:

Web:
You may also be interested in...