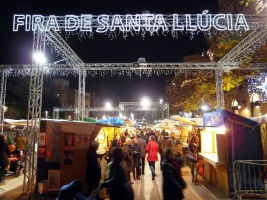 Schedule
| | Days | Hours | | |
| --- | --- | --- | --- | --- |
| | Cada dia | de 10.00 h a 21.00 h | | |
Aquest any la Fira comença el proper 24 de novembre, gairebé un mes abans del Nadal, amb el que tindreu temps de mirar i triar entre totes les parades, que trobareu a l'Avinguda de la Catedral en uns passadissos més amples que mai per a la vostra comoditat.
Com sabeu, és la fira més antiga pel que fa al món del pessebre i de les tradicions nadalenques. Enguany, celebrem el 237è aniversari des de la primera data confirmada de la seva celebració, el 1786.
La Fira ha estat preparant per tots vosaltres diferents novetats. Aquest any, el mon del pessebre està de celebració, doncs es compleixen 800 anys del primer pessebre, efectuat per Sant Francesc d'Assís a una cova de la localitat de Greccio, a Itàlia.
També s'està treballant en les activitats pels més menuts de la casa que s'ampliaran respecte l'any passat, tant pel que fa a la quantitat d'actes com als dies i horaris.
El dissabte 16 de desembre celebrarem la 30ena Diada de les Tradicions i Costums Nadalencs a Catalunya, amb diverses activitats i actuacions entre les que es donarà conèixer el "Firaire d'Honor" d'enguany.
Les parades de la Fira s'agrupen en quatre sectors artesanals:
Pessebres i figures, on s'ofereixen principalment: complements del paisatge del pessebre, coves, figures, llums de nadal, boles, espelmes i decoració nadalenca per la llar, pessebres i arbres.
Verd i vegetació, on podeu trobar arbres naturals o artificials, molsa, tiós de totes mides, suro pelegrí, ramets de la sort, branques d'eucaliptus i similars.
Artesania, on trobareu tota mena de productes artesanals i complements com roba, joieria, objectes de decoració i regal i molts d'altres.
Simbombes, on us oferiran, a més del tradicional instrument, panderetes i molts d'altres estris per donar un toc musical al vostre nadal.
Voltants de la Catedral de Barcelona
Address:

Av Catedral, 1

:

Ciutat Vella

Neighborhood:

el Barri Gòtic

City:

Barcelona
Where

Voltants de la Catedral de Barcelona
When

From 24/11/2023 to 23/12/2023
Website
You may also be interested in...