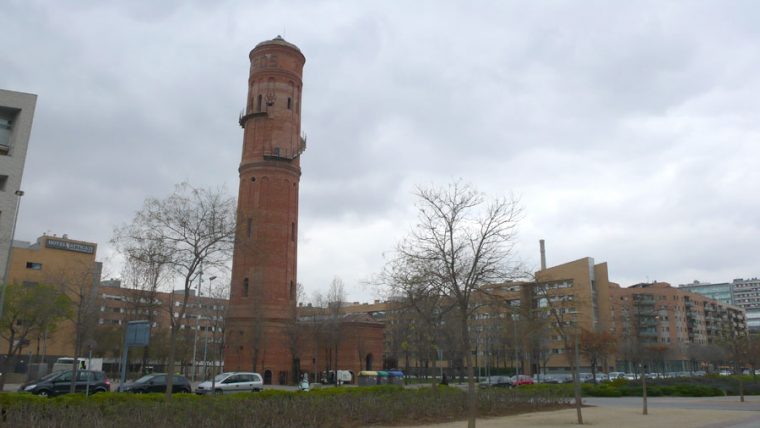 Routes. On Saturday and Sunday morning it's possible to visit the Torre de les Aigües del Poblenou.
The Torre de les Aigües del Besòs is one of the few surviving elements of industrial heritage along the Barcelona coast. The building dates back to the 19th century and opened to the public for the first time in 2014 following a three year renovation project. The architecture of the tower is also special as it is an innovative model which differs from others built in Europe in the same period.
On the way up the tower's three hundred plus stairs we discover the role of this unique construction, the water extraction process, the construction system and how the various chapters in history have affected it. From the tower, over 60 metres high, a different view of the city includes the Collserola mountain range and the tall buildings in the centre. This is a Barcelona which is closer to the sea and more human in scale. The inside of the building also provides a look at the architecture of the industrial period in 1880, before the bourgeois style of modernisme gained momentum.
Schedule
Days
Hours
Preus
Observation

a les 12.30 h

Entrada general: 6 €




Entrada reduïda: 5 €

- persones jubilades

- persones a l'atur

- joves entre 12 i 18 anys

- carnet de biblioteques (cal acreditar-ho), només a la Torre




Entrada gratuïta:

- infants menors 12 anys (acompanyats d'un adult), només a la Torre




Grups: 5 € per persona

(4 o més persones)

Les visites es fan en grups de com a màxim 15 persones.




Cada menor de 12 anys ha d'anar acompanyat d'un adult.




Les visites són en català o castellà.




Visites concertades en horaris convinguts, amb grups de com a màxim 15 persones.
Others
Occur on:

Managed by:
Et presentem un recorregut pel passat i el present de la Torre de les Aigües del Besòs, un dels únics elements que han sobreviscut del patrimoni industrial al litoral de Barcelona, al barri del Poblenou.
Des del somni de la seva construcció, passant pel somni de l´oblit i els usos industrials, arriba ara el somni de la seva recuperació.
Amb més de 60 metres d´alçària, és el testimoni d´un gran projecte empresarial per proveir d´aigua de boca la ciutat de Barcelona, que va impulsar la Compañía General Anónima de Aguas de Barcelona, Ladera Derecha del Besós.
Pel caràcter emblemàtic de l´espai i per la seva estructura arquitectònica, les visites a la Torre s´han de realitzar amb un guia, que ens trasllada a la Barcelona de 1880, al passat industrial de Barcelona i del Poblenou.
El recorregut per la Torre no està adaptat per a les persones amb discapacitat física. Les característiques constructives dificulten la seva adaptació. La Torre disposa de serveis adaptats a la Casa de les Vàlvules.
Address:

Plaça de Ramon Calsina, 1*4

:

Sant Martí

Neighborhood:

Diagonal Mar i el Front Marítim del Poblenou

City:

Barcelona
When

Permanent event
Website
Web:

Web venda d'entrades:
You may also be interested in...