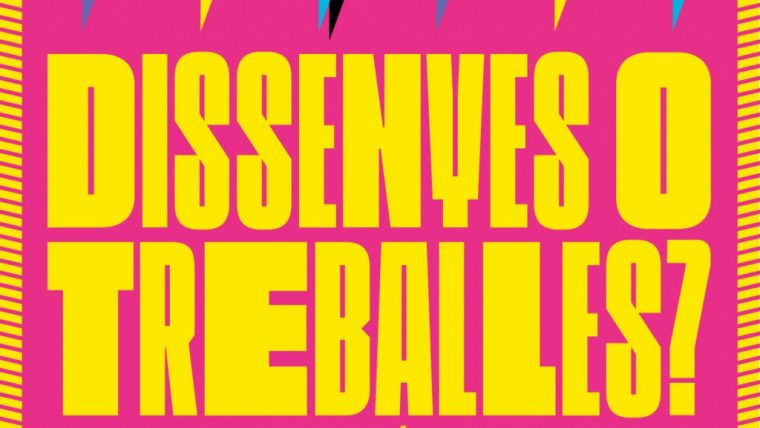 Reobertura el 16 de juny.
Exhibitions. 'Do you work or design? New visual communication. 1980-2003' is the new exhibition at the Museu del Disseny.
The 1980s and 1990s were peak moments for graphic design.
After the death of Franco, with Spain's full integration into Europe and the establishment of democracy, designers had the opportunity to participate in a process of creating and transforming the image of public institutions, private organisations and companies.
This exhibition shows an era of extraordinary vitality, euphoria and celebration which has been described as a design boom. Fuelled largely by institutional support and the media, this boom left us an expression which became celebrated and reflected its popularity: "Do you design or work?" But graphic designers, far from being frivolous, designed and worked intensely, as can be seen if we analyse this period when design began to have a major social presence.
With the advent of the Macintosh computer and the arrival of the new millennium, new perspectives and specialities began to emerge. Spanish graphic designers managed to consolidate their profession and project themselves abroad, while they also began to grapple with new challenges such as sustainability, information overload and the increasing multiculturalism of our societies.
Schedule
Days
Hours
Preus

De dimarts a divendres

de 15:00 h a 20:00 h

Entrada general de: 6 €

Entrada reduïda: 4 €

Entrada gratuïta:
· Diumenge a la tarda, de 15 a 20 h
· Cada primer diumenge de mes
· 12 de febrer (Santa Eulàlia)
· 24 de setembre (Mare de Déu de la Mercè
· Menors de 16 anys
· Posseïdors de la Targeta Rosa gratuïta
· Membres de l'ICOM (International Council of Museums)
· Membres de l'Associació de Museòlegs de Catalunya
· Guies turístics professionals
· Professors d'ensenyament reglat acreditats per la direcció del centre educatiu Professors d'ensenyament reglat quan acompanyin un grup d'estudiants
· Persones que disposin del passi metropolità d'acompanyant de persones amb discapacitat
· Periodistes degudament acreditats
· Posseïdors de la targeta Barcelona Card
· Persones inscrites al Gaudir Més

dissabtes i diumenges

de 10:00 h a 14:00 h i
de 15:00 h a 20:00 h
Others
Occur on:

Tickets sold at:
Les dècades de 1980 i 1990 van ser un moment estel·lar per al disseny gràfic.
Després de la mort de Franco, amb la integració plena a Europa i l´establiment de la democràcia, els dissenyadors van tenir l´oportunitat de participar en un procés de creació i transformació de la imatge de les institucions públiques, les organitzacions privades i les empreses.
Va ser una època de vitalitat extraordinària, d´eufòria i celebració, descrita com «el boom del disseny». Alimentat en gran manera pel suport institucional i els mitjans de comunicació, aquest boom ens va deixar una expressió que es va fer cèlebre i que reflectia la seva popularitat: «Dissenyes o treballes?». Però els dissenyadors gràfics, lluny de tota frivolització, dissenyaven i treballaven intensament, com es pot comprovar si s´analitza aquell moment, en què el disseny va començar a tenir més presència social.
Amb la irrupció de l´ordinador Macintosh i l´arribada del nou mil·lenni van sorgir noves perspectives i especialitats. Els nostres dissenyadors gràfics van aconseguir consolidar-se i projectar-se internacionalment mentre començaven a enfrontar-se amb nous reptes, com el de la sostenibilitat, la sobrecàrrega informativa o el creixent multiculturalisme de les nostres societats.
Address:

Plaça de les Glòries Catalanes, 37*38

:

Sant Martí

Neighborhood:

el Parc i la Llacuna del Poblenou

City:

Barcelona
When

Permanent event
Website
E-mail
E-mail:

museudeldisseny@bcn.cat
Social networks
Facebook:

Twitter:
You may also be interested in...