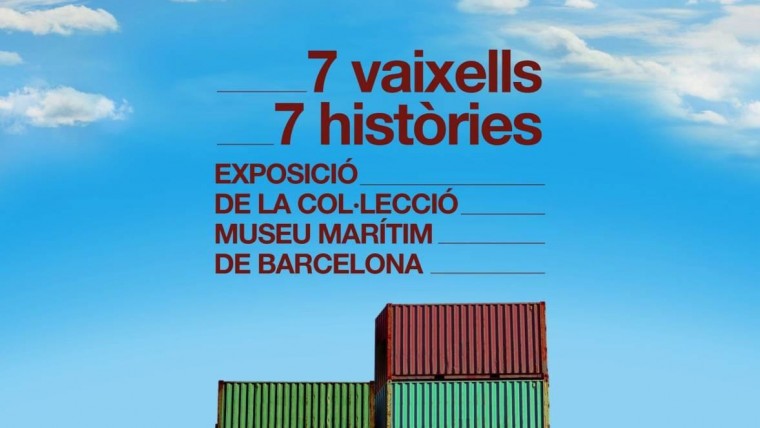 Exhibitions. Seven vessels and seven histories from characters from several eras.
Nothing represents sea adventures better than the image of sea craft.
This exhibition deals with issues such as discovery of the world, leisure, conflict, life on board a transatlantic liner, shipping goods, pirates, journeys and technological changes, through seven ships and seven stories of amazing sea adventures, as told by seven characters from each of the periods.
The ship, the Santa María de la Victoria; a 20th-century sloop; the transatlantic liner, the  Royal Edward; the cargo-passenger carrier, the  City of Paris; the container ship, the  Pilar; an 80-cannon vessel and the xebec the Santa Cristina are the seven star vessels.
The characters linked to each of these vessels are: a woman stevedore; a naval officer; a woman bather from 1930s Barcelona; the captain of a ship from 1890; the son of a mapmaker from 1300; a transatlantic liner's cook and a 7th-century woman whose children were kidnapped by pirates.
The exhibition presents over eighty items from the museum's collection and offers interactive media, allowing visitors to experience through smell, hearing and touch.
Schedule
Days
Hours
Preus
Observation

Tots el dies excepte 24 desembre, 25 desembre, 26 desembre, 31 desembre, 1 gener i 6 gener

de 10:00 h a 20:00 h

Entrada general: 10 €




Reduïda:: 5 €

- Majors de 65 anys

- Estudiants (- 25 anys)amb carnet d' estudiant

-Persones amb situació d'atur (amb acreditació)

-Persones amb un grau de discapacitat igual o superior al 33% i un acompanyant

- Carnet de Biblioteques de Barcelona

- Socis de l'ONCE

- Carnet Jove

Reduïda: 8 €

- Grups de + 10 persones

- Families nombroses o monoparental amb acreditació

Gratuïta:

- Diumenges a partir de les 15 h

- Membres Amics Museu Marítim

- Membres de l'ICOM

- Membres de l'ICCM

- Membres Associació Museòlegs Catalunya

- Menors 17 anys

- 12 i 13 de febrer (Santa Eulàlia)

- 15 de maig (Nit dels Museus: gratuït de 18 a 22 h)

- 18 de maig (Dia Internacional dels Museus)

- 24 de setembre (la Mercè)

Entrada al Museu per la plaça del Portal de la Pau.

Accés al museu fins a les 19 h

L'entrada individual inclou la visita a les exposicions temporals i al pailebot Santa Eulàlia

24 desembre i
31 desembre

de 10.00 h a 15.00 h
Others
Occur on:

Tickets sold at:
Res no representa millor les aventures marítimes que la imatge del vaixell, En totes les èpoques i a tots els mars, els vaixells han estat els instruments que han permès l'ésser humà comerciar, viatjar, descobrir, lluitar i ara també gaudir. Els vaixells són màquines, però tenen una personalitat, un nom i un caràcter propis, com pot assegurar qualsevol navegant. El vaixell és un vehicle, però també és un contenidor, de coses i de persones, i fins i tot de vivències, d'històries, de mites. Un contenidor que anima a descobrir el que ens és desconegut, com els contenidors d'aquesta exposició.
Us convidem a navegar per diverses narracions utilitzant diferents vaixells com a grans protagonistes, i hem triat, entre moltes possibilitats, set grans temes universals: el conflicte, el lleure, el descobriment del món, el transport de mercaderies, la pirateria, el viatge i el canvi tecnològic. Totes les peces de l'exposició formen part de les col·leccions de l'MMB.
Address:

Avinguda de les Drassanes, 1

:

Ciutat Vella

Neighborhood:

el Raval

City:

Barcelona
When

Permanent event
Website
Web:
You may also be interested in...