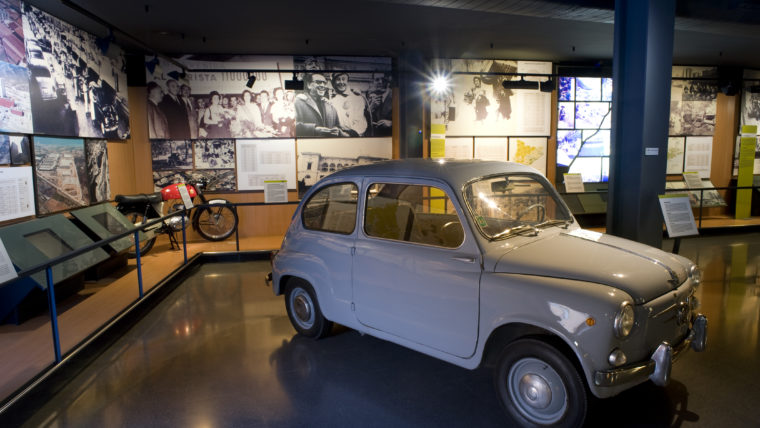 Exhibitions. The multi-millennial history of the men and women of Catalonia.
The permanent exhibition at the Museu d'Història de Catalunya, 'The Memory of a Country', shows the thousands of years of history of the men and women who have lived in the lands we now know by the name of Catalonia.
Visitors to the exhibition can get a first-hand insight into our historical roots, how our nation was born and how it grew, the periods of prosperity and decline and the process which has brought us to the present day. In addition, numerous mock-ups and interactive elements enable us to engage with the exhibition in a recreational and participative way.
Schedule
Days
Hours
Preus
Observation

dimarts, dijous, divendres i dissabtes
i 24 de setembre
excepte 24 de desembre
31 de desembre

de 10:00 h a 19:00 h

Entrada general de: 6 €

Reduïda: 4 €
- majors de 65 anys
- pensionistes
- titulars Carnet Jove
- titulars carnet d'estudiant internacional
- posseidors carnet de família nombrosa o monoparental
- grups no turístics de més de 10 persones

Combinada (col·lecció permanent
+ exposició temporal):
- general: 8 €
- reduïda: 6 €

Exposició temporal:
- general: 4 €
- reduïda: 3 €

Gratuït:
- primer diumenge de mes
- menors 16 anys
- persones a l'atur
- persones amb discapacitat acreditada
- grups estudiants acompanyats professor
- personal docent
- membres ICOM
- amics del Museu
- 12 de febrer (Santa Eulàlia)
. 23 d'abril (Sant Jordi)
- 16 de maig (La Nit dels Museus, gratuït de 19 a 1 h)
- 18 de maig (Dia Internacional dels Museus)
- 11 de setembre (Diada Nacional de Catalunya)
- 24 de setembre (la Mercè)

Es recomana adquirir les entrades en línia a través del web del museu. També s'ha de fer quan l'entrada sigui gratuïta o d'accés lliure.

L'entrada es tanca 30 minuts abans

dimecres

de 10:00 h a 20:00 h

diumenges i festius
i 24 de desembre
31 de desembre
excepte 1 de gener
6 de gener
1 de maig
1 de juny
25 de desembre
26 de desembre

de 10:00 h a 14:30 h
Others
Occur on:

Registration at:
L'exposició permanent del Museu d´Història de Catalunya, "La memòria d'un país", mostra la història mil·lenària dels homes i dones que han viscut en les terres que avui coneixem amb el nom de Catalunya. El visitant pot conèixer de primera mà quines són les arrels de la nostra història, com va néixer i com es va expandir la nostra nació, els seus períodes de prosperitat i decadència, i el seu esdevenir fins arribar als nostres dies. A més, nombroses escenografies i interactius li permeten aproximar-s'hi de manera lúdica i participativa.
Address:

Plaça de Pau Vila, 3

:

Ciutat Vella

Neighborhood:

la Barceloneta

City:

Barcelona
When

Permanent event
Website
You may also be interested in...