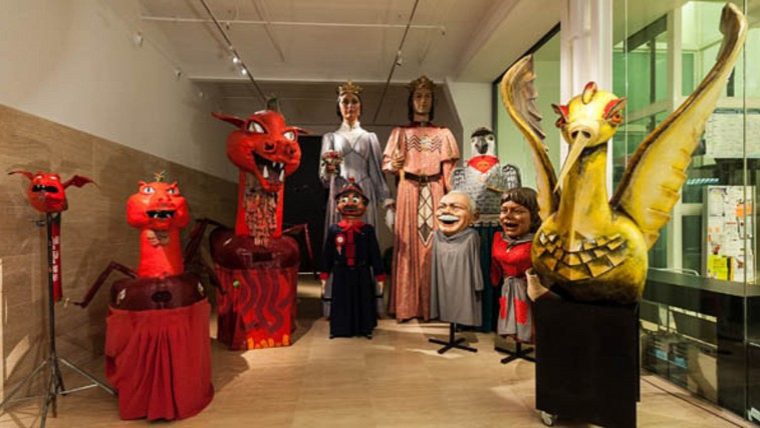 Exhibition. The exhibition features dragons, giants, the she-dragon, the Lloro del 36, the Phoenix, the Bomber (firefighter) and the bigheads.
Throughout the year, at Can Saladrigas, you can visit the exhibition of figures from the festive imagery of the neighbourhoods of Sant Martí.
In the exhibition space you'll find all the figures accompanied by an information panel featuring the history, anecdotes and the construction techniques for each figure.
If you would like to arrange a guided group visit, simply send an email to cansaladrigas@gmail.com.
Schedule
| | Days | Hours | | |
| --- | --- | --- | --- | --- |
| | De dilluns a divendres excepte festius | de 17:30 h a 21:00 h | | |
Others
Exposició permanent de les figures d'imatgeria festiva dels barris de Sant Martí. Durant tot l'any, a Can Saladrigas, podeu visitar l'exposició de les figures d´imatgeria festiva dels barris de Sant Martí.
Els Dracs, els Gegants, La Víbria, el Lloro del 36, el Fènix, el Bomber, els capgrossos... us estan esperant al Centre d'imatgeria Festiva dels barris de Sant Martí.
A partir de dilluns dia 26 de novembre es pot accedir dins de l'espai expositiu on trobareu totes les figures acompanyades d'un extens plafó explicatiu amb la història, anècdotes, tècniques de construcció... de cada una d'elles.
Podeu concertar visites guiades per a grups, només cal que escriviu a cansaladrigas@gmail.comCal indicar- data i hora en que voldrieu fer la visita- nombre de persones i mitjana d'edat.- Principals interessos sobre la imatgeria festiva: història, tècniques de construcció de les figures, tècniques de les actuacions ( com es porten, com usar la pirotècnia, com es ballen... )
Address:

C Joncar, 35

:

Sant Martí

Neighborhood:

el Poblenou

City:

Barcelona
When

Permanent event
Website
E-mail
E-mail:

cansaladrigas@mail.com
Social networks
You may also be interested in...