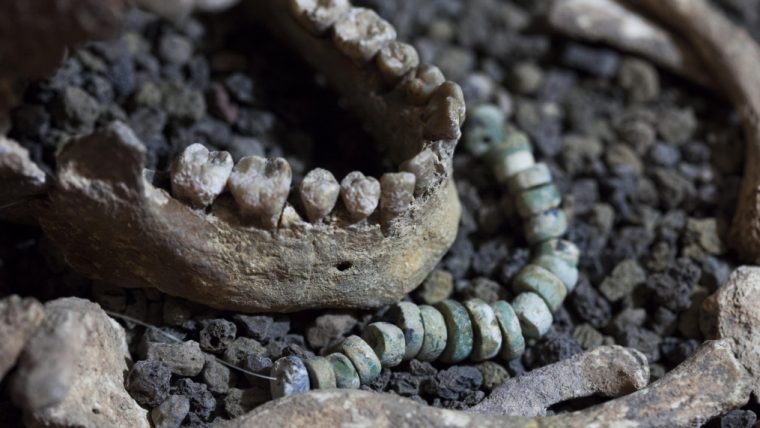 Prevista la seva obertura el 12 de juny.
Exhibitions. An exhibition that takes us back two and a half million years to figure out where we come from.
The new long-term exhibition of the Archaeology Museum takes a tour of the Paleolithic, Bronze, Megalithic and Iron Ages to discover the origins of Catalonia today.
Notable technological advances already took place in pre-history, as revolutionary as today's, but much more spaced out in time. Those improvements helped to consolidate communities and stimulate their material progress.
The exhibition explains the origins of Homo sapiens, the development of agriculture and livestock farming, the first stable towns and mining operations, and the production of metal utensils, stone monuments and burial sites. It ends with the Iron Age, when contacts between different communities and the application of new technologies contributed to the evolution of metallurgy and agriculture.
Little by little, prehistoric cultures definitively brought together Europe's collective soul. We are direct heirs of that world.
Schedule
Period
Days
Hours
Preus
Observation

del 12 de juny
al 28 de juny

De dimarts a dissabtes

de 09:30 h a 19:00 h

Entrada Gratuïta




diumenges i festius

de 10:00 h a 14:30 h

del 29 de juny
a l'11 de juny

De dimarts a dissabtes
excepte 24 de desembre
31 de desembre

de 09:30 h a 19:00 h

Entrada general de: 6 €

Reduïda: 4 €
- 65 anys o més
- pensionistes
- titulars del Carnet Jove
- carnet d'estudiant internacional
- posseïdors del carnet de família nombrosa o monoparental
- grups no turístics de mes de 10 persones

Gratuït:
- menors 16 anys
- persones aturades
- persones amb certificat de discapacitat
- membres de l'ICOM o l'ICOMOS
- membres de la SCA
(Soc. Catalana Arqueologia)
- membres de l'AMC
(Ass. Museòlegs Catalunya)
- personal docent
- 12 de febrer (Santa Eulàlia)
- 23 d'abril (Sant Jordi)
- 18 de maig (Dia Internacional dels Museus)
- 18 de maig (Nit dels Museus:
gratuït de 19 a 1 h)
- 11 de setembre (La Diada)
- 24 de setembre (La Mercé)
- primer diumenge de cada mes<

Arqueoticket: 14.5 €.

Grups imprescindible reserva prèvia

diumenges i festius
i 24 de desembre
31 de desembre
excepte 25 de desembre
26 de desembre
1 de gener

de 10:00 h a 14:30 h

18 de maig

de 19:00 h a 01:00 h

Entrada Gratuïta

La Nit dels Museus
Els avenços tecnològics que es van produir a la prehistòria van ser tan revolucionaris com els actuals, tot i que molt més espaiats en el temps. La humanitat va canviar gràcies al domini del foc, a la talla de la pedra i a la fabricació de les primeres eines. Aquestes millores van ajudar a consolidar les comunitats i a estimular el seu progrés material. L'agricultura, la ramaderia i la producció de ceràmica també van ser autèntics revulsius, que van portar a la sedentarització, a l´acumulació d'excedents i a l'inici del comerç.
Per fi alguns grups podien especialitzar-se en tasques diferents de l´estricta recerca d´aliments, com ara la metal·lúrgia o la producció de joies, autèntics objectes de luxe de l´època. Noves necessitats generaren nous pensaments, formes artístiques i simbòliques cada cop més elaborades. Les mateixes societats evolucionaren envers models més complexos, amb l´aparició de les primeres jerarquies i dels primers dissenys urbans.
A poc a poc, les cultures prehistòriques varen aglutinar l'ànima col·lectiva europea d'una forma definitiva. Nosaltres som hereus directes d'aquell món.
Address:

Passeig de Santa Madrona, 39*41

:

Sants-Montjuïc

Neighborhood:

el Poble-sec

City:

Barcelona
When

Permanent event
Website
You may also be interested in...